Hebrew College Centennial
Remember. Renew. Reimagine.
Hebrew College began celebrating our 100th year in fall 2021 around the theme "Remember. Renew. Reimagine." Throughout the year, we invited you to attend special events—including our Spring Centennial Celebration on June 2— and a Centennial Lecture Series; read a new historical centennial book Hiddushim; listen to our Centennial season of our Speaking Torah Podcast; read stories; view historical photos, and learn about Hebrew College's exciting next chapter on a new shared campus in Newton, Mass.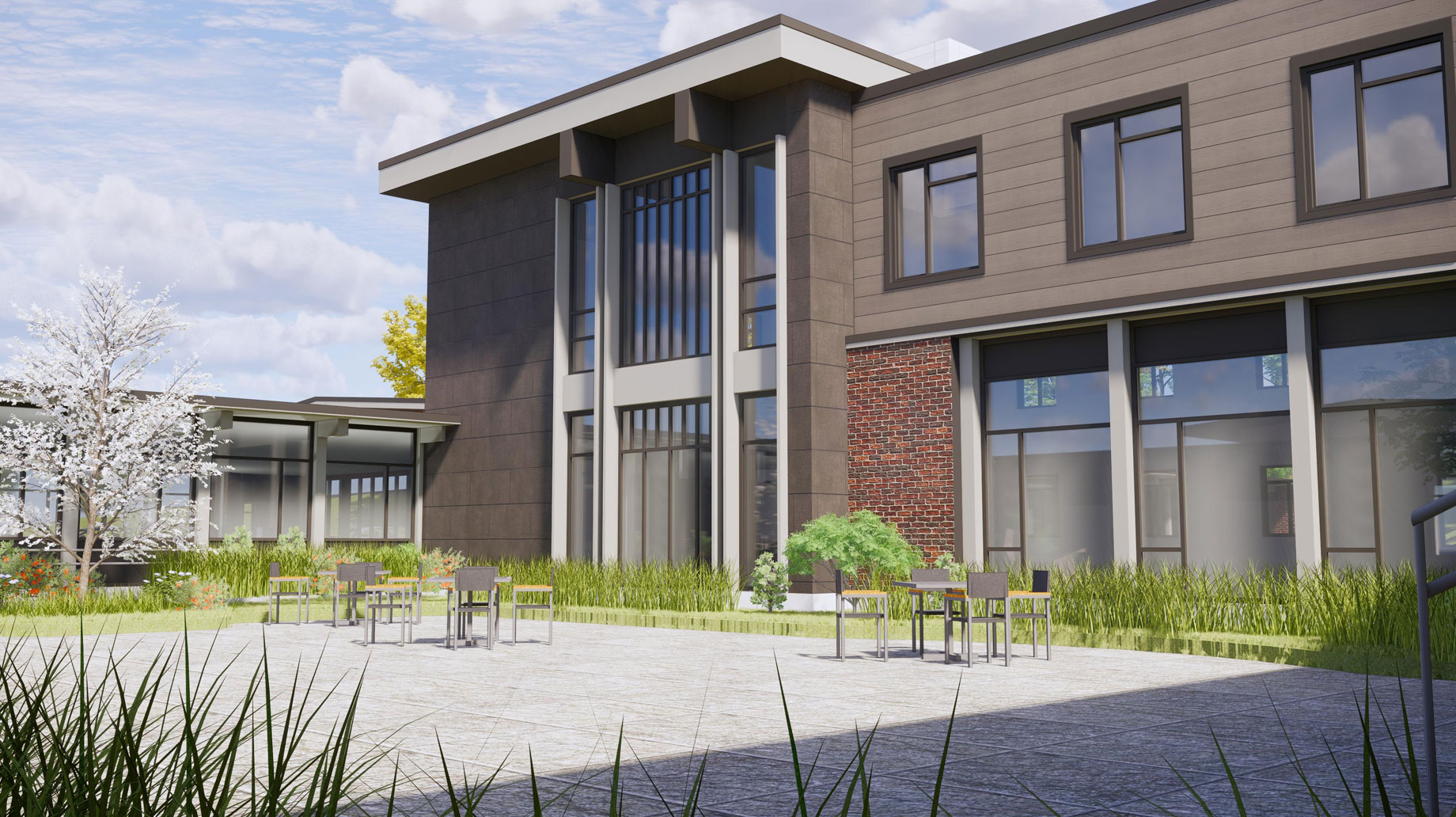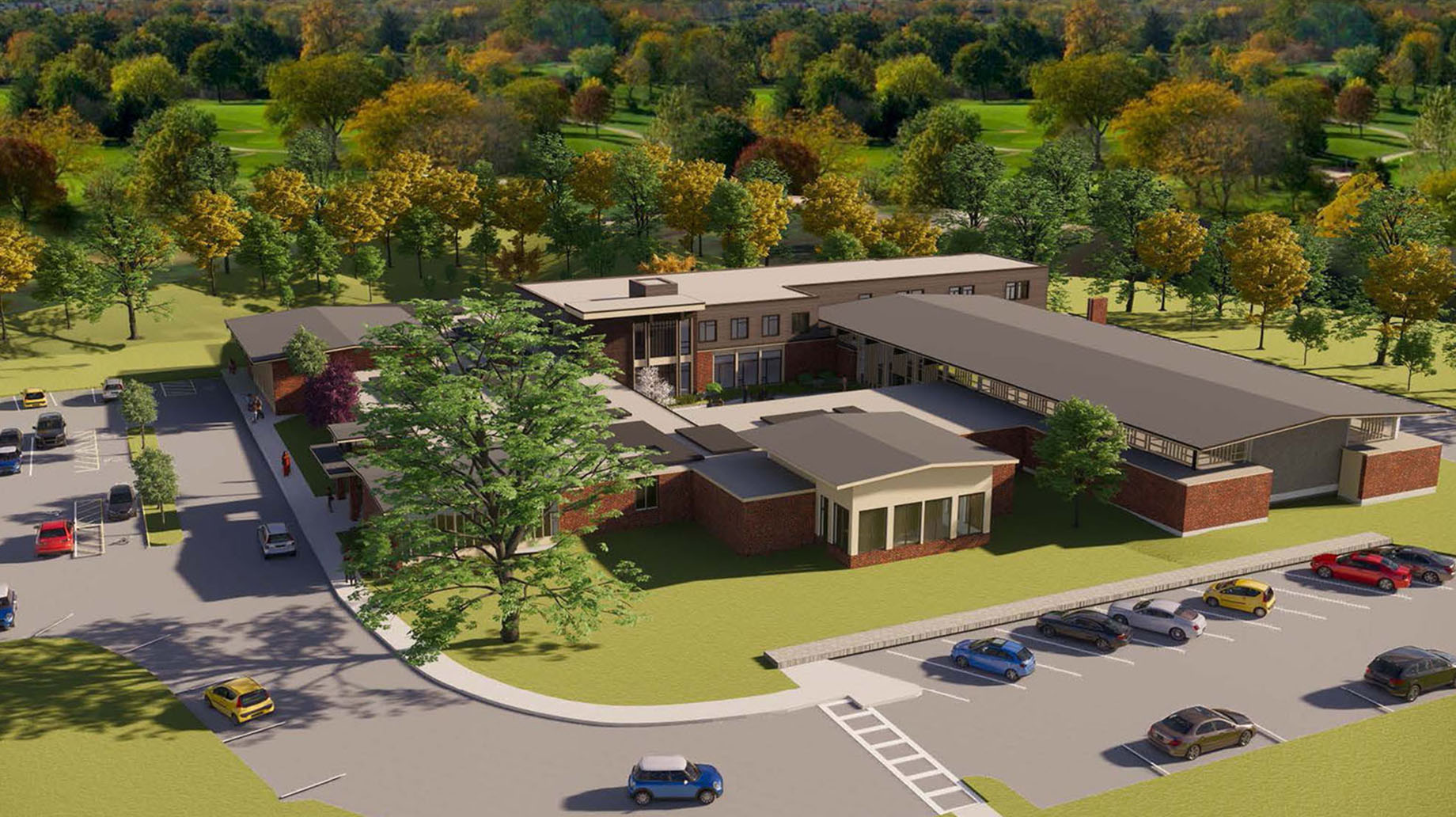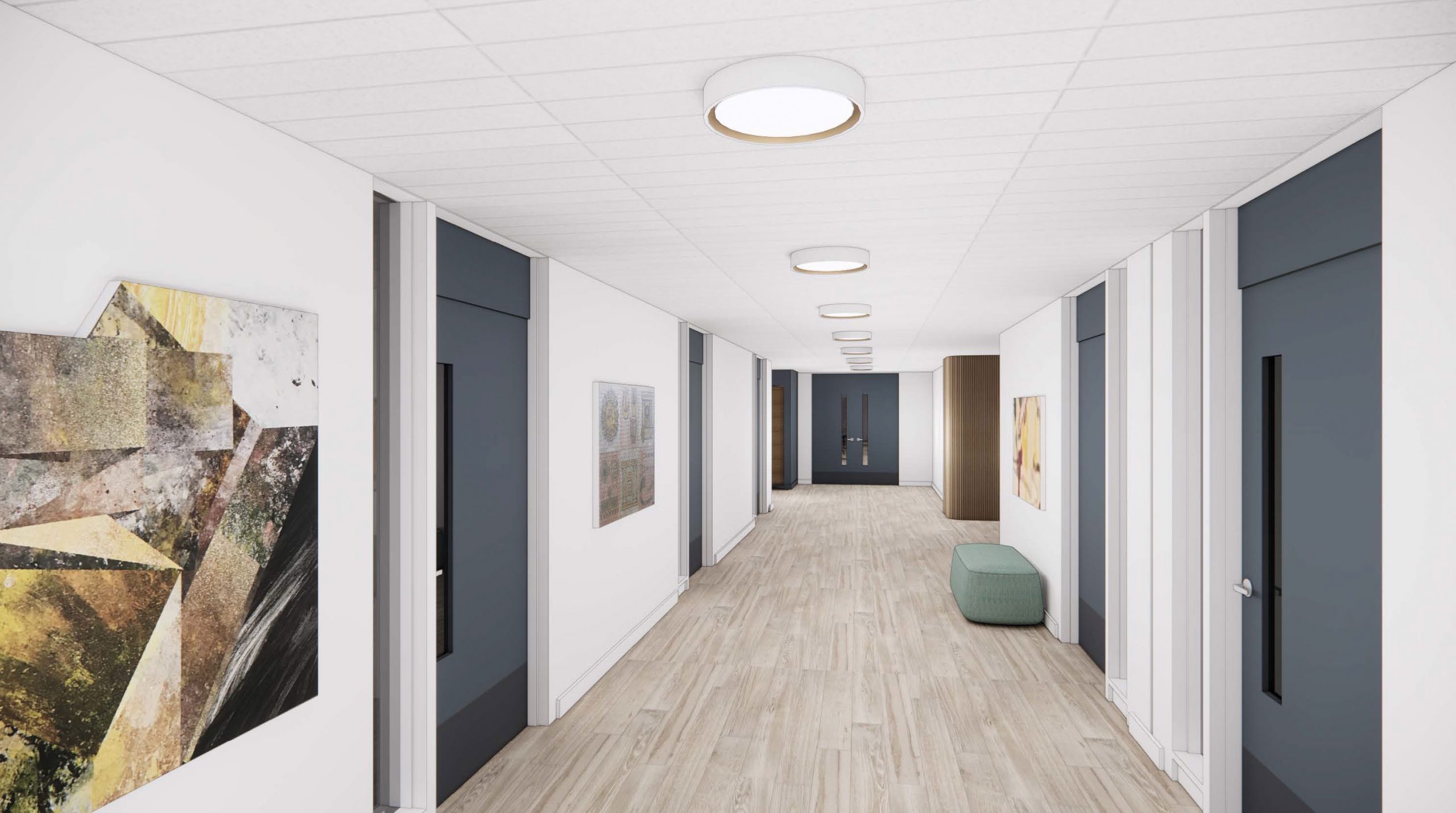 Centennial Events
We hope you'll plan to join us for our year-long centennial events, including our exciting plans for Hebrew College's next chapter on our new shared campus in Newton (pictured above). Please bookmark and visit our events page for the most up-to-date information on centennial events throughout the academic year. A few highlights include:
"Seeing Torah" Fall Art Exhibit & Gallery Talks (Sept. 12, 2021 – Jan. 31,  2022)
Centennial Speakers Series (Oct. 21 – May 19, 2022)
Prozdor Virtual Alumni Reunion (Dec. 2, 2021)
Groundbreaking for our new shared campus (above) (Dec. 5, 2021)
"Remember, Reimagine, Renew: Hebrew College at 100" Art Exhibit (April 1-June 15, 2022)
Commencement & Ordination (May 29, 2022)
Spring Centennial Celebration: Remember, Renew, Reimagine (June 2, 2022)
Did you know?
June 25, 1925, Hebrew Teachers College held its first graduation with speaker Rabbi Stephen S. Wise: 13 students graduated—10 men and 3 women.
May 17, 1951, Israeli Prime Minister David Ben Gurion visited Boston (pictured above) to raise money for Israel Bonds. Before he spoke to a sold-out audience of 18,000 at Boston Garden, he visited Hebrew College to speak to students and faculty. During his speech he said that if he had to select just one place in America to give a speech, he would have chosen Hebrew Teachers College.
The Hebrew Teachers College building on Crawford Street in Roxbury, Mass. included a gymnasium with showers, locker rooms, a removable stage and seating for 500 for plays, concerts and High Holiday services, as well as a library, a museum that highlighted the flora and fauna of Palestine, and a roof garden for open air concerts.
In the height of the Depression, Hebrew Teachers College launched a three-year extension course for adults, the precursor to today's Me'ah adult learning program. It also created the New England Women's Association of the Hebrew Teachers College in 1932, which raised funds for student scholarships.
Eisig Silberschlag, who became Hebrew Teachers College's fourth dean in 1947, was an internationally renowned poet, translator, literary critic, and master of Greek and Latin. Silberschlag's translation of Aristophanes' comedic plays into Hebrew won him the Tel Aviv Prize in 1965. He oversaw the College's move from Crawford Street to Hawes Street in Brookline, Mass.
The first Dean of Hebrew Teachers College, Dr. Nisson Touroff, was a former editor of Israel's daily newspaper Ha-aretz, which is still published today.
Hebrew Teachers College's second Dean, Dr. Samiel Perlman, was a renowned Hebrew scholar who worked with Vladmir Jabotinsky, a Russian Jewish Revisionist Zionist leader, author, poet, orator, soldier, and founder of the Jewish Self-Defense Organization in Odessa, on a historical Hebrew atlas, later used in schools throughout the world.
From its inception, Hebrew Teachers College was open for women and men to study together.
Hebrew Teachers College presidents were called "Deans".
In 1944 during the height of World War II, Hebrew Teachers College founded Camp Yavneh.
In the 1930s, during World War II Hebrew Teachers College students and alumni wrote letters to the Hebrew College faculty from the front lines. One soldier wrote from Fiji: "My religious activities continue to keep me pleasantly occupied…. A recent project of mine has been to arrange with Shapiro's Book Store to send the boys who request them (and many do), some gold 'Mogen Davids' (religious tokens) which they can attach to their Dog Tag chains."
On March 5, 1969, the Hebrew Teachers College Board of Trustees voted to amend Charter of the Corporation to change the school's name to Hebrew College.  On May 9, 

1969

the Massachusetts Legislature passed the bill and the governor signed it.
New England Patriots owner Bob Kraft is a graduate of Prozdor, Hebrew College's high school program.
The Hebrew College library has an "incunabulum" manuscript (above, right) printed in the 15th century. (An incunabulum is a book, single sheet, or image that was printed before the year 1501 in Europe and is very rare.) Hebrew College's incunabulum

is part of one of the earliest printed bible commentaries by David Kimhi to the early Prophets, the book of Judges and I & II Samuel, published by Joshua Soncino from 1485 in Soncino, Italy.

Hebrew College taught English and Jewish culture to Russian immigrants in the late 1980s and early 1990s.
In the 1990s, Hebrew College briefly had a master's program that attracted many Japanese students from the Japanese Christian Zionist group Makuya.
From the 1950s to 1970s there were several Jewish scholars who were launched into their careers by attending Hebrew College. These included Arnold Band, Michael Fishbane, Ben Halpern, Paula Hyman, Anne Lapidus Lerner, Jonathan Sarna, Isadore Twersky, and Ilan Troen—all scholars at the top of their respective fields of Jewish studies and all of whom were pathbreaking in significant ways.
The Me'ah program began in 1994 and quickly became a centerpiece of the College. It started with two classes and a few years later hundreds of students were enrolling every year.
Hebrew College's moved to Newton campus in 2001. The campus was designed by world-famous Israeli architect Moshe Safdie.
Hebrew College Rabbinical School founder and Rector Rabbi Arthur Green, started the havurah movement in the 1960s. He founded the Rabbinical School with two central ideas: (1)

students would spend time in traditional

chevruta

 (partnership) learning in the 

beit midrash

and (2) students needed to take their own spiritual quest seriously.
Rabbi Sharon Cohen Anisfeld became the first female president of Hebrew College in 2018.
---
Centennial Photo Album
Please email us if you recognize anyone in these photos. We'd love to update our archives!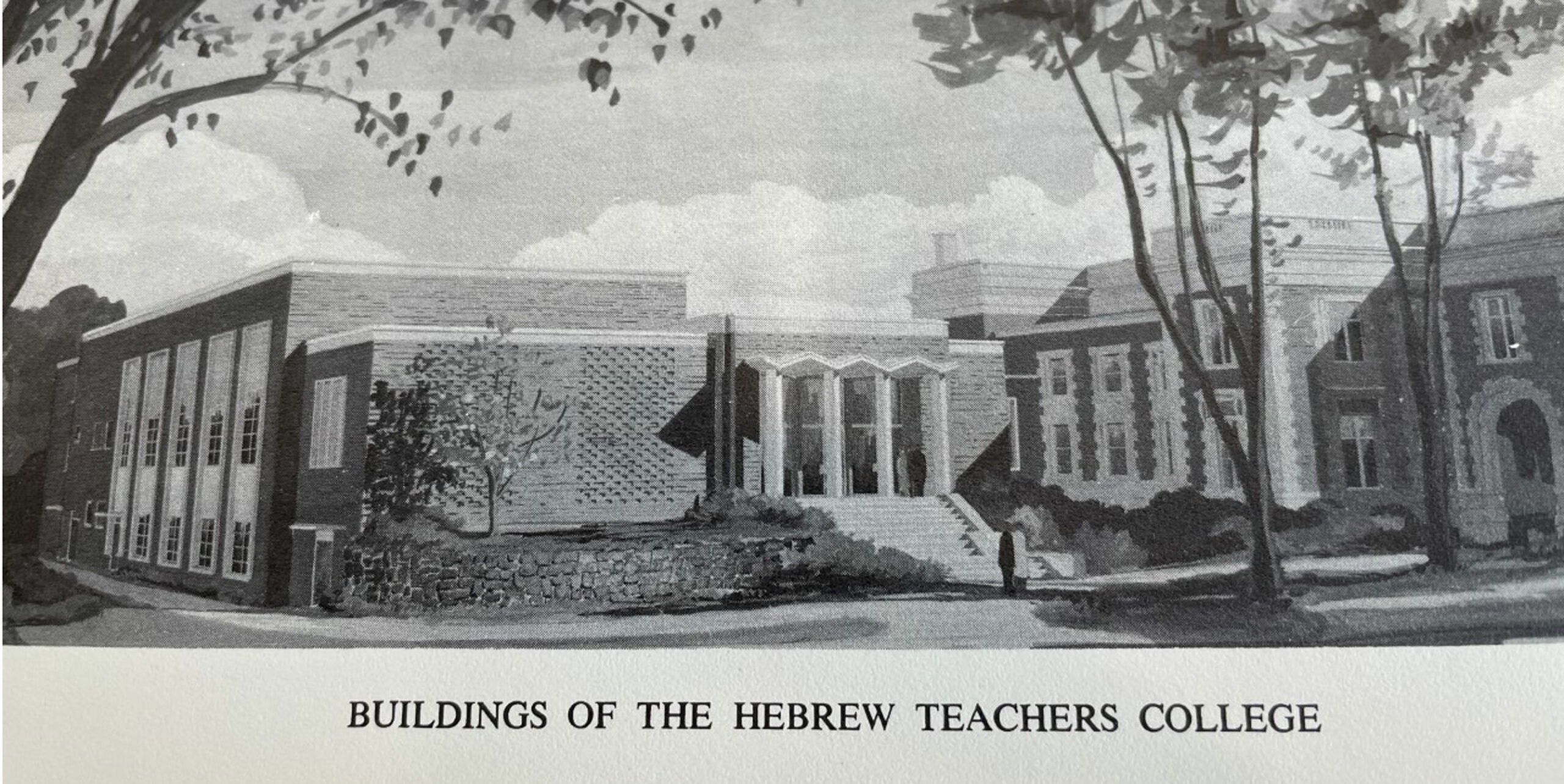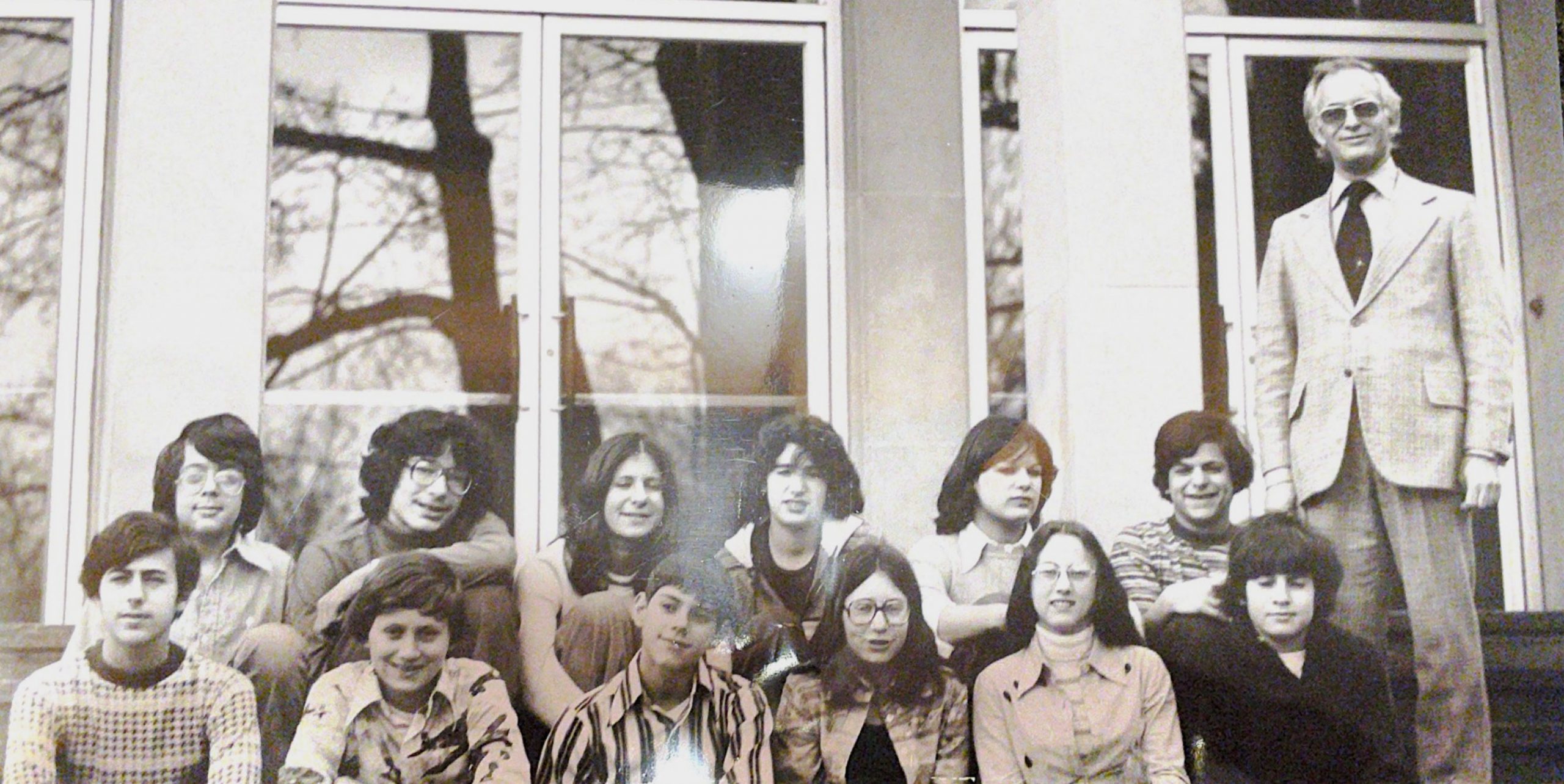 ---
Hiddushim, Celebrating Hebrew College's Centennial
This special centennial book was commissioned by Hebrew College for its 100th year. Below, read a message from the editors, Rabbi Arthur Green, Dr. Jonathan Sarna and Dr. Michael Fishbane. 
It is with a great sense of honor and delight that we present to you this collection of essays by alumni, faculty, and Israeli friends of Hebrew College. The centenary of this venerable institution, a mainstay of the greater Boston Jewish community that has also achieved a national and international reputation, is indeed an occasion for celebration.
As Daniel Judson's historical survey will show you, both the College and the American Jewish community have been through vast upheavals in the course of these hundred years. The founders of Beyt ha-Midrash Le-Morim in 1922 could not have begun to imagine what Jewish life looks like today. They knew only that they were dedicated to shaping and strengthening the Jewish future in uncertain times, and understood that this needed to begin with Hebrew literacy and a solid foundation in Jewish learning, neither of which was to be taken for granted in the post- immigrant generation. In that sense, it may be said that they and the present leadership of Hebrew College have a great deal in common.
The volume is divided into three sections. The first is devoted to the institution itself: Boston Hebrew Teachers College/Hebrew College. The historical essay is followed by a series of personal memoirs, written by alumni of various years and programs offered by the College. This is followed by the longest section, essays in Jewish thought, literature, and history, by scholars who study a wide range of the Jewish people's experience and creativity. The essays are arranged in chronological order of the subjects under consideration. The final section is a group of essays in areas of Jewish education, a special focus of this institution throughout its history.
We hope you learn from these essays and enjoy reading them. May they stimulate the ongoing growth of your own Jewish education, a process that continues throughout life and across the generations. May Hebrew College celebrate many more milestones in the years ahead!
Speaking Torah Podcast Centennial Season
"Remember"
New episodes on Apple Podcasts, Spotify, Stitcher, or where ever you listen to podcasts.
Listen
"On the Jewish front, we are kind of busy this month. We have resumed a Saturday morning Service (The Torah Reading is… a new job for me) and are preparing for Chanukah. Our monthly Oneg Shabbat promises to be a great success." — Letter excerpt from unidentified soldier to Hebrew College Registrar, December 6, 1944, from the Hiddushim essay by Rabbi Dan Judson, Ph.D. entitled "A Home for Jewish Learning in 'The City on the Hill': The History of Hebrew College  (Hebrew College Archives)

>> Learn more and listen to the letters on Hebrew College's Speaking Torah podcast episode "Hiddushim: Letters from the Front."
---
A Special Online Centennial Lecture Series
The Old Made New and the New Made Holy
​In honor of our centennial, eight leading Jewish thinkers reflect on the challenge of renewing Judaism for today. Each speaking through the prism of their own life's work, these faculty members and friends of Hebrew College—from across North America and Israel —will explore the ways in which Judaism has responded and continues to respond to communal and existential challenges. Monthly via Zoom beginning October 21, 2021 from 7-8:30 p.m. EST. 
Instructors: Rabbi Sharon Cohen Anisfeld (Hebrew College), Rabbi Angela Buchdahl (Central Synagogue, NY), Rabbi David Ellenson (HUC-JIR), Rabbi Arthur Green (Hebrew College), Rabbi Shai Held (Hadar), Rabbi Benay Lappe (SVARA), Rabbi Jennie Rosenn (Dayenu), Jonathan Sarna, PhD (Brandies University)