Perspectives & Publications
Pluralism, the conviction that various religious, ethnic, racial, and political groups should be allowed to exist on an equal footing and thrive in a single society, is the foundation of our mission at Hebrew College. It is woven into all we do. It affects how we think, how we pray, how we teach, how we study, how we learn. It permeates how we interact within the Jewish community and with the world at large.
Here you'll find our faculty and leadership's pluralistic perspectives on the areas most important to Hebrew College: Torah, spirituality and prayer, sustainability, social justice and communal responsibility, creativity, and interfaith and interreligious work.
Our commitment to pluralism also feels particularly poignant in the current moment. It means that we welcome and embrace the diversity of the Jewish community and of the wider multi-religious and multi-cultural society in which we live. And, it means that we aspire to listen well, to learn with and from each other with humility and curiosity, to approach each other with open hearts and minds.

Rabbi Sharon Cohen Anisfeld, President, Hebrew College
---
Spirituality, Halakhah & Neo-Hasidism
Living, Learning, and Teaching Halakhah in a Pluralistic Context
Hebrew College have been actively and intentionally engaged for the last 15 years in the questions: What does a rabbi need to know? And who does a rabbi need to be? The teaching and learning of halakha in our pluralistic context touches on both of these essential orienting questions. Read remarks by President Rabbi Sharon Cohen Anisfeld, Rabbinical School Associate Dean Rabbi Jane Kanarek,  and 2018 alumnus Director of Learning the Lippman Kanfer Foundation for Living Torah Ayalon Eliach, from the Harvard Law School Conference Living, Learning, and Teaching Halakhah in a Pluralistic Context: A View From the Hebrew College Rabbinical School on December 20, 2018.
Ways of Learning, Ways of Becoming: Neo-Hasidic Teaching of the Hasidic Homily
Rabbis Arthur Green, Nehemia Polen, Ebn Leader, and Or Rose joined a dozen other scholars and educators for the three-day gathering at the Van Leer Institute, December 30, 2018 – January 1, 2019 for an international conference in Jerusalem dedicated to the subject of the teaching of the Hasidic homily (d'rashah in Hebrew). Participants reflected on their teaching philosophies and various techniques and challenges that arise when working with Hasidic sources in various educational settings. The seminar was convened by Dr. Elie Holzer of Bar-Ilan University, with support of the Rabbi Dr. David Ochs Chair for Teaching Jewish Religious Studies, and in partnership with Shma Koleinu: A Beit Midrash for Prayer & Community. Rabbi Or Rose of Hebrew College's Miller Center for Interreligious Learning & Leadership said, "This was a wonderful opportunity to meet with outstanding mentors and colleagues from the US and Israel to explore the sacred craft of teaching Hasidism. The organizers and participants all shared generously of themselves throughout the gathering."
Hebrew College Passover Companion
Published in March 2020, the Hebrew College Passover Companion is a collection of essays that temerged out of a desire to honor our friend and colleague, Dr. Judith Kates. Professor, author, teacher, and scholar, Kates stands among the pioneers of contemporary Jewish women reclaiming their Jewish literary heritage by bringing a feminist perspective to the interpretation of classical Jewish texts. The Passover Companion represents a unique collaboration among faculty, staff, alumni, and friends of Hebrew College. Following after the Hebrew College High Holiday Companion, it offers a pathway into another of our central ritual moments—the Passover seder. — Rachel Adelman, Jane L. Kanarek, and Gail Twersky Reimer, Editors.
Hebrew College High Holiday Companion
Jewish tradition teaches that as we traverse the winding path of teshuvah (return and renewal) each year during the High Holy Day season, it is wise to do so with fellow seekers. To help guide your steps, the faculty, alumni, and students of Hebrew College created a High Holiday Companion — collection of reflections on the prayers, scriptural readings, and sacred practices of Rosh Hashanah and Yom Kippur. Featuring original essays, poetry, and visual artwork, this booklet will help illuminate the way into the High Holiday liturgy and these sacred days of return and renewal.
Making Prayer Real
Rabbinical School of Hebrew College faculty member Rabbi Ebn Leader discusses tefillah in this excerpt from an interview about his Making Prayer Real Course.
Sustainability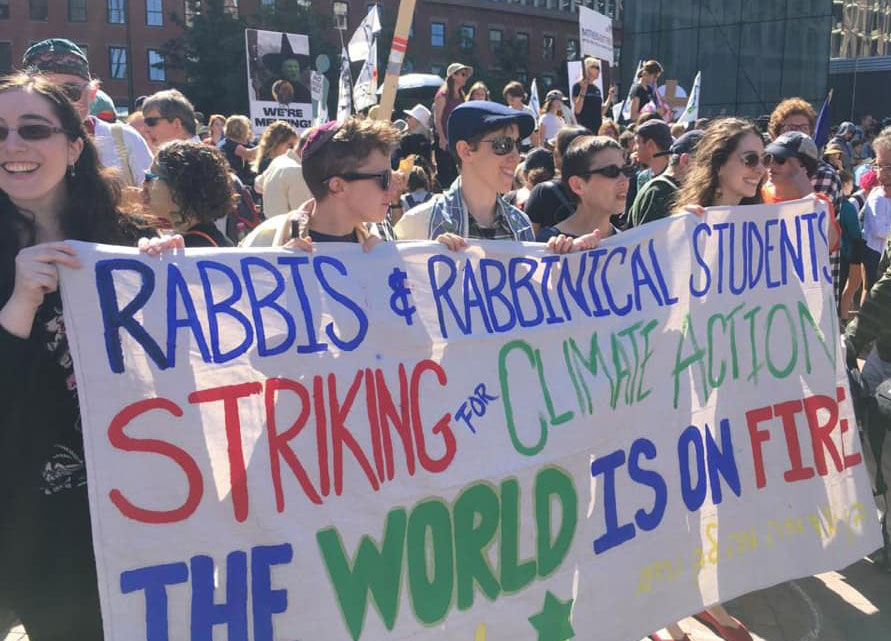 Hebrew College students, faculty, and staff joined the 2019 Climate Strike in Boston, part of the Global Climate Strike, some marching from earth-themed morning davening at the Boston Synagogue
Hebrew College rabbis incorporate environmental themes into their services and sermons.
Hebrew College Rector Rabbi Arthur Green has inspired the Hebrew College community to renew the ancient practice of reciting daily the biblical text for the day of Creation (or ma'amad).
Led by rabbinical and cantorial students, the Hebrew College Sustainability Committee organizes a number of green initiatives, including College-wide composting and carpooling.
A group of students, faculty, and staff from throughout the College launched a new committee, "Admat Kodesh" (Holy Ground), to discuss how Hebrew College can respond to the environmental crisis, because, as rabbinical student and committee organizer Lorin Troderman says, "Sustainability is in the DNA of Hebrew College."
Hebrew College offers several classes that "make the natural connection between Jewish learning and the vital concern for our precious planet," says Rabbi Natan Margalit, director of Hebrew College's Open Circle Jewish Learning. Some of those courses have included: "Torah for Transformative Social Change," "Climate Justice/Climate Equity and Judaism," and "Spiraling Though Time: Radically Rethinking Our Relationship to Land."
As part of our newly-enhanced Year-in-Israel program for rabbinical students, funded by generous support from the Germanacos Foundation, students will be spending several days at the Arava Institute for Environmental Studies on Kibbutz Ketura, learning with students from throughout the Middle East who are preparing to meet the region's environmental challenges.
Students from the Jewish Teen Foundation of Greater Boston, a Hebrew College program that teaches local high school students about fundraising, civic leadership, and grant-making, gave $17,548 of the $60,265 they raised in 2018-2019 to environmental organizations "to preserve the environment for future generations."
Social Justice
Prayer for interfaith vigil at Tornillo Detention Camp – Hebrew College President Rabbi Anisfeld joined a national delegation of labor, educational, and faith leaders organized by the American Federation of Teachers (AFT) at the Texas border in June 2018 calling for an end to the inhumane policy of family separations and detentions and the violations of the basic rights of asylum seekers. President Anisfeld offered this prayer during an interfaith vigil at the Tornillo Detention Center where children are still being held.
Voices of Resilience – At this special Hebrew College event, guests Reverands Mariama White-Hammond and Fred Small, and Rabbi Shoshana Meira Friedman, Rab`14, share their thoughts on hope, optimism and the yearning for goodness.
Something of Redemption – Rabbi Dan Judson, Dean of the Rabbinical School of Hebrew College, relates Parashat Balak and the famous verse "How goodly are your tents O Jacob, your dwelling places O Israel!/Mah tovu ohalekha Yaakov, mishkanotekha Yisrael" and the theme of redemption to the immigration and family separation struggles in America during the summer of 2018.
WeToo – President Sharon Cohen Anisfeld addresses the Jewish response to the #MeToo movement.
Creativity
Glitz, Glam and God – Hebrew College alumna and entrepreneur Rabbi Adina Allen, Rab`14, co-founder of the Jewish Studio Project – an arts-based nonprofit in Berkeley, CA that blends traditional Jewish learning with a creative arts studio – infuses creative art and writing into her interpretation of Torah.
Communal Singing – In this bonus podcast episode of "Judaism Unbound," recorded live at Hebrew College, host Lex Rofeberg, MJEd`18 (holding microphone below) enters into conversation with Hebrew College alumni Rabbi David Fainsilber, Rab`14, rabbi of The Jewish Community of Greater Stowe, and Rabbi Jessica Kate Meyer, Rab`14, rabbi and chazzan of The Kitchen in San Francisco (pictured below). The panel was part of a Hebrew College conference entitled "The Past and Future of Synagogues."
On Being Caught in the Thicket – Hebrew College President, Rabbi Sharon Cohen Anisfeld, infuses poetry with Torah in this piece about Rosh Hashanah.
Godly Play – Watch Rabbi Dr. Michael Shire, Chief Academic Officer and Dean of the Shoolman Graduate School of Jewish Education and a pioneer in the creative field of Jewish education, use the creative "Godly Play" storytelling method to bring Torah to children.
Synagogues & Economics
---
Selected Faculty Publications
A New Hasidism: Roots and A New Hasidism: Branches  (2019) by Hebrew College Rector Rabbi Arthur Green and Ariel Evan Mayse, PhD. This first-ever anthology of Neo-Hasidic philosophy brings together the writings of its progenitors: five great twentieth-century European and American Jewish thinkers—Hillel Zeitlin, Martin Buber, Abraham Joshua Heschel, Shlomo Carlebach, and Zalman Schachter-Shalomi—plus a young Arthur Green. The thinkers reflect on the inner life of the individual and their dreams of creating a Neo-Hasidic spiritual community.
Words to Live By: Sacred Sources for Interreligious Engagement (2018) co-edited by Rabbi Or Rose and Rev. Soren Hessler of Hebrew College's Miller Center for Interreligious Learning & Leadership, and Dr. Homayra Ziad of the Institute for Islamic, Christian , and Jewish Studies.
National Jewish Book Award Finalist: Pennies from Heaven: The History of American Synagogues and Money (2018) by Rabbi Dan Judson, Dean of the Rabbinical School of Hebrew College, and expert on synagogue dues. Synopsis: In the annals of American Jewish history, synagogue financial records have been largely overlooked. But as Rabbi Judson shows in his examination of synagogue ledgers from 1728 to the present, these records provide an array of new insights into the development of American synagogues and the values of the Jews who worshipped in them. Looking at the history of American synagogues through an economic lens, Judson examines how synagogues raised funds, financed buildings, and paid clergy. By "following the money," he reveals the priorities of the Jewish community at a given time.
Learning to Read Talmud: What it Looks Like and How it Happens (2017) co-edited by Rabbi Jane Kanarek, Rabbinical School Associate Professor of Rabbinics and Marjorie Lehman. Synopsis: Learning to Read Talmud is the first book-length study of how teachers teach and how students learn to read Talmud. Through a series of studies conducted by scholars of Talmud in classrooms that range from seminaries to secular universities and with students from novice to advanced, this book elucidates a broad range of ideas about what it means to learn to read Talmud and tools for how to achieve that goal. Bridging the study of Talmud and the study of pedagogy, this book is an essential resource for scholars, curriculum writers, and classroom teachers of Talmud.
Gender Equality and Prayer in Jewish Law (2017) by Rabbi Micha'el Rosenberg, Professor of Rabbinics, Rabbinical School of Hebrew College, and Ethan Tucker. Synopsis: As gender equality has spread throughout society, including its religiously observant sectors, traditional communities turn to their guiding sources to re-examine old questions. This book opens the reader's eyes to the wealth of Jewish legal material surrounding gender and prayer, with a particular focus on who can lead the prayers in a traditional service and who can constitute the communal quorum—or minyan—that they require. With honesty, transparency, and rigor, Gender Equality and Prayer in Jewish Law is a powerful resource for grappling with these complex questions.
Marrying Out: Jewish Men, Intermarriage and Fatherhood (2014) by Dr. Keren McGinity, Director, Interfaith Jewish Engagement, Hebrew College. Synopsis: When American Jewish men intermarry, goes the common assumption, they and their families are "lost" to the Jewish religion. In this provocative book, McGinity shows that it is not necessarily so. She looks at intermarriage and parenthood through the eyes of a post-World War II cohort of Jewish men and discovers what intermarriage has meant to them and their families.
Judaism's Ten Best Ideas (2014) by Rabbi Arthur Green, Rabbinical Rector. Synopsis: In an age of fluid identity, many people are honestly asking the question "Why be Jewish?" What in this religious and ethnic legacy is worth preserving? Does Judaism have something unique to offer a contemporary seeker free to choose a way of life and a system of values? Rabbi Arthur Green, a leading spiritual teacher who has faced these questions in conversation with generations of students, answers these questions with warmth, humor, personal and rabbinic stories and down-to-earth explanations.
Speaking Torah Vol. 1 & 2: Spiritual Teachings from around the Maggid's Table (2013) by Rabbi Arthur Green. Synopsis: While Hasidic tales have become widely known to modern audiences, the profound spiritual teachings that stand at the very heart of Hasidism have remained a closed book for all except scholars. This fascinating selection—presented in two volumes following the weekly Torah reading and the holiday cycle, and featured in English and Hebrew—makes the teachings accessible in an extraordinary way. Volume 1 covers Genesis, Exodus and Leviticus, and includes a history of early Hasidism and a summary of central religious teachings of the Maggid's school. Volume 2 covers Numbers and Deuteronomy and the holiday cycle, and includes brief biographies of the Hasidic figures.
Radical Judaism (2010) by Rabbi Arthur Green, Rabbinical School of Hebrew College Rector. Synopsis: How do we articulate a religious vision that embraces evolution and human authorship of Scripture? Drawing on the Jewish mystical traditions of Kabbalah and Hasidism, path-breaking Jewish scholar Arthur Green argues that a neomystical perspective can help us to reframe these realities, so they may yet be viewed as dwelling places of the sacred. In doing so, he rethinks such concepts as God, the origins and meaning of existence, human nature, and revelation to construct a new Judaism for the twenty-first century.