Supporting one another and nurturing a vibrant community is key to the Hebrew College experience and approach. We are guided by the belief that we don't make the journey to ordination alone. We travel as a community, each individual cherished, celebrated, and encouraged to flourish as we cultivate the habits of heart and mind to journey with our fellow students and future congregants. This commitment sustains and supports us and serves as a model for what is possible in your future work as a rabbi.
Student Backgrounds and Demographics

Inclusion & Support

Meet Our Students

Boston
There are currently 83 students enrolled in the Hebrew College Rabbinical and Cantorial School. The program has a full slate of classes, ranging from Mekorot (preparatory) through the fifth and final year.
Gender
Age
Range: 22-60
Median: 28
Average: 30
Family Background
Jewish Educational Background
Country of Origin
United States*: 77
United Kingdom: 1
Australia: 1
Canada: 3
France: 1
*States represented:
Arizona
California
Colorado
Connecticut
Florida
Illinois
Kansas
Ohio
Maryland
Massachusetts
Michigan
Minnesota
New Jersey
New York
North Carolina
Pennsylvania
Texas
Virginia
Washington
Degrees Attained Prior to Attending Rabbinical School
J.D., Washington College of Law, American University
M.A., Near Eastern and Judaic Studies, Brandeis University
M.A., Jewish Studies, Columbia University
M.B.A., Harvard Business School, Harvard University
M.Div., Harvard Divinity School, Harvard University
J.D., Harvard University
M.A., Jewish Studies, Hebrew University
M.B.A-M.A., Jewish Professional Leadership, Hornstein Jewish Professional Leadership Program, Brandeis University
M.B.A., Sloan School of Management, Massachusetts Institute of Technology
M.A., Religious Studies, Naropa University
M.B.A., Graduate School of Business, Stanford University
M.A. in Security Studies, Tel Aviv University
M.Ed.,, Tufts University
M.Div., University of Chicago Divinity School
M.A. in Voice, University of Michigan
M.Div., Yale Divinity School, Yale University
Colleges and Universities Attended*
American University
Bard College
Barnard College
Brandeis University
Brown University
Columbia University
Cornell University
Dartmouth College
Duke University
Emory University
Grinnell College
Goucher College
Massachusetts Institute of Technology (MIT)
McGill University
Middlebury College
Oberlin College
Princeton University
Rice University
Smith College
The Citrus Space, London
University of Calgary
University of California Los Angeles (UCLA)
University of Maryland
University of Michigan
University of Virginia
University of Wisconsin
Vanderbilt University
Vassar College
Washington University in St. Louis
Wellesley College
Wesleyan University
Yale University
Yeshiva University
York University
*Partial list
Organizational, Educational and Work Experience Prior to Rabbinical School*
Acting
American Jewish World Service (AJWS)
Avodah Fellow
BaMidbar  WIlderness Therapy
Biology Laboratory
Business Strategy
Carpenter
Chef
Chicagoland Jewish High School
Circus Performer
Community Organizing
Computer Programming
Dorot Fellow
Drisha
Environmental Education
Farming education
Financial Analyst
Graduate School
Hara Fellow
Hillel
Homeless Coalition
Isabella Friedman Jewish Retreat Center
J Pride
Jewish Farm School
Lawyer
Magician
McKinsey Consulting
Nachshon Project
National Council of Jewish Women
National Havura Institute
Outward Bound
Pardes Fellow
Read Estate
Religious Action Center of Reform Judaism
Repair the World
Social Work
Songleader
Svara
Teva Learning Center
Writer/Editor
Yiddish Farm School
Yoga teacher
*Partial list
All are Welcome
Our learning and community is infused with a commitment to welcoming and affirming Jews of all races, sexual orientations and genders. We strive to hear and lift up the voices of marginalized communities to help create a more whole Jewish community. In addition to our strong and growing alliance to LGBTQ Jews and causes and anti-racism work, we also offer a mentorship program for LGBTQ students, pairing them with LGBTQ alumnae for regular discussion and support around challenges of navigating the rabbinate and world as an LGBTQ rabbi.
---
Student Cohorts
In addition to engaging with others in the Beit Midrash and classroom as we learn, each week we gather as a school to celebrate the successes and share the challenges people are experiencing.
Class cohorts also meet weekly to take the measure of their studies and their lives. Beyond the school week, we cultivate a joyous collective responsibility for one another, celebrating Shabbat, holidays, and other s'machot (joyous occasions) in one another's homes. We call our cohorts: Mekorot, , Shanah Aleph, Shanah Bet, Shanah Gimel, Shanah Dalet and Shanah Heh.
Tyler Dratch, Bucks County, PA
"When I came to visit Hebrew College's Rabbinical School, there was a student playing banjo. I had never seen anyone lead a Jewish prayer service with a banjo. Everyone was singing. I learned that this student was part of just one of many tefillah groups at the school. Now that I'm a student here, I am exposed to all the tefillah groups. We devote time to process what is happening in prayer. If I can't do that, then I can't be as effective in translating prayer to other communities. So I'm working on my own spiritual growth and honing my skills to bring that to the communities I will lead."
Mimi Micner, Vancouver, British Columbia
"I want to be a rabbi because if we want to make the kind of political and social change in the world that I care so much about, we need to be doing deep, transformative, spiritual work as a Jewish community and as a larger society. I came to rabbinical school after having done a number of years of social justice work and found that meaningful. I felt I needed more spiritual depth and tools to sustain the work long term and help me along the way."
Joey Glick, Pittsburgh, PA
"A core part of Hebrew College is the idea that learning Jewish texts contributes to community leadership. I've had so many experiences in other settings of sitting in community meetings where there are profound divisions and disagreement that aren't really being aired. The process of looking at texts to find points of tension and then give them space to breathe feels very connected to these community conflict experiences. I want to be a rabbi to serve in times of conflict and diverse opinion—to be a conduit for many conflicting voices— and to bring textual tradition that speaks to the importance of those views so we can bring understanding to communities."
Rachel Putterman, New York, NY
"While there are countless 'how to' videos on YouTube showing how to wrap tefillin, these videos depict almost exclusively cis men. Through the All Genders Wrap project, we propose to create a high quality video of a diverse group of ten Jews of all genders (including trans and non-binary) demonstrating how to put on tefillin with step by step explanation." – Rachel Putterman, Rabbinical student, former public interest lawyer, and creator of "All Genders Wrap. Read about the project.
Jackson Mercer, San Rafael, CA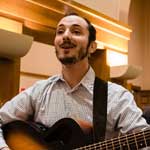 "Growing up, I wanted to be a baseball coach or an architect, or run a law firm. I figured out eventually that what was at the core of all of those career paths was that I wanted to help people and to create systems to build community. All of those were possible as a rabbi. I think part of the reason I was able to come to that conclusion was because I had so many rabbinical role models in my life that weren't just standing on a bimah giving sermons. They were also doing amazing things that were unique to their personal rabbinate. So when I got to the point of deciding my next steps, it wasn't so far-fetched to think 'my rabbinate doesn't have to be limited; it can be a model for the change I want to make in the world."
---
Boston's Jewish Community
Hebrew College is located in Newton Centre, just outside Boston, one of the leading regions of Jewish innovation and entrepreneurship.
"I didn't think I would love Boston this much. Hebrew College has its fingers in so many Jewish and other institutions around Boston—synagogues, social justice organizations, musical spaces—that I can go almost anywhere and find a friend or connections." – Rabbinical student from Pittsburgh
Home to the progressive federation Combined Jewish Philanthropies, Boston is blessed with a wide array of Jewish religious and social-justice institutions. Congregations — both affiliated and independent, established and start-up — abound. Day schools and supplementary Jewish schools are on the forefront of Jewish education. Hebrew College has developed strong ties with many of these institutions, giving students ample opportunities for internships during school and career options upon ordination.
Home to more than 60 colleges and universities, Boston has earned a reputation as the nation's premier academic hub. With its myriad arts and cultural offerings, thriving nightlife and scenic beauty, the city is a great place to live and learn.