Jewish learning

Hebrew College's Speaking Torah Podcast

By Hebrew College
Welcome to the Speaking Torah podcast!
Hebrew College presents writers and readers thinking creatively about how Torah is relevant to today—and how it can inform and help us in a world in need of healing and hope.
Torah is one of the most profound sources of wisdom available to us. On this podcast, Jewish leaders from around the world read essays from Hebrew College faculty and rabbinical alumni, and Jewish leaders about how Torah can help us navigate the most pressing issues of our time.
Together, we explore the ways Torah can help us approach the world with creativity, healing, and hope. After listening to the podcast, we hope that you will be left feeling inspired, uplifted, and excited to engage with Torah in a modern, transformative way.
---
Season Three
Ep #7: Challenging Destruction: We Speak Up Despite the Odds
Join us in this episode to discover the lessons from the ancient stories of Noah and the flood to Abraham's intervention in the destruction of Sodom and Gomorrah. And in the post-sermon discussion, both reader Bill McKibben and Rabbi Shoshana Friedman share their thoughts about our role and responsibility to take action and speak up to encourage the collective consciousness needed to address climate change.
>> LISTEN NOW
---
Ep #8: Thank You Dean Thurman: Remembering an American Spiritual Master
Dr. Shively Smith reads us through and reflects on Rabbi Or Rose's gratitude of Howard Thurman and the impact he had on the landscape of what is possible for interreligious harmony and cooperation — as well as how we can all carry on this work in our own religious practices.
>> LISTEN NOW
---
Ep #9: When the Walls of Metaphor Can't Hold
Rabbi Jordan Braunig's essay, read by Rabbi Sharon Cohen Anisfeld, brings us into an unsettling and deeply personal story of love and fragility, giving us an account of a time when it's so difficult to express the complexity of emotion, that even the walls of metaphor cannot hold.
>> LISTEN NOW
---
Season Two
Ep #4: The Loneliness of the Long Distance Translator – Read by Rabbi Arthur Green, you will discover the insights that Rabbi Nehemia Polen uncovered during the process of his understanding and translation of Malkah Shapiro's memoir The Rebbe's Daughter, and the challenges of separating himself from the work while remaining an integral vehicle in its delivery.
>> LISTEN NOW
Ep #5: Squash with Egg and Cheese – Judith Rosenbaum reads us on a journey through Lydia Kukoff's sensory memories and the product of combining her Italian heritage with her chosen Jewish faith, melding her experiences, creating new traditions for her family, and expanding the definition of Judaism while also connecting deeply with its traditions.
>> LISTEN NOW
Ep #6: Stop Making Sense – Anne Germanacos reads Rabbi Mónica Gomery's d'var Torah, written in 2019, highlighting this piece's ever-increasing relevance in a world of post-truths and "alternative facts". Mónica shares with us how leaning into that which doesn't make narrative sense highlights the greater truths that can fly under our rational mind.
>> LISTEN NOW
---
Season One
Ep #1: Two Ways to Tell a Story – Joy Ladin guides us through Rabbi Gray Myrseth's work, Two Ways to Tell a Story, taking us on a powerful journey built equally upon continuity and disruption, from Moses shattering the 10 Commandments, to their own journey to find a self that they could inhabit fully, without fear. 
>> LISTEN NOW
Ep #2: Vertical Ladders of Sky, Horizontal Ladders of Earth –  Rabbi Jordan Schuster explores the connection between John Keats and the story of Jacob's Ladder, and teaches that regardless of how fissured this world feels, ladders, like bridges, hold the possibility for connection and relationship. Read by Rabbi Sharon Cohen Anisfeld, President of Hebrew College.
>> LISTEN NOW
Ep #3: Extending the Horizons of Our Hearts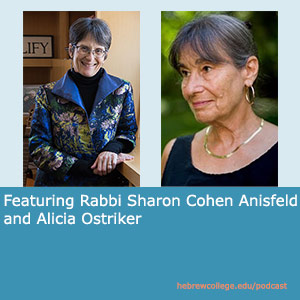 – Jewish feminist poet, Alicia Ostriker, reads Rabbi Sharon Cohen Anisfeld's essay on the Binding of Isaac, and invites us to think about the thicket of our own lives; the possibilities that we haven't seen and the impacts of the stories that we tell ourselves.
>> LISTEN NOW
---
If you like what you hear, can you leave us a review on Apple Podcasts?
Just follow the steps below:
To subscribe in Apple Podcasts, visit the Speaking Torah page and click on the "Listen on Apple Podcasts" button or search for "Speaking Torah" in your iPhone Podcasts app. (Note: If you're on a PC or Android, you can download the iTunes app and leave a review there!)
This will launch Apple Podcasts and bring up the podcast.
Click on the "Subscribe" button.
Click the star rating you would like to leave (we would love 5 stars, of course, if the show inspires you!).
Write your review, title it, and you're all set!
Make sure you hit "Send!"