Admissions & Costs:
Become a Cantor
Eligibility
Jewish Engagement and Identity
As a pluralistic school, we do not have prescriptions for how you should live as a Jew. Rather, we support each other in a search for a meaningful and authentic engagement with Jewish tradition. For prospective students, a cantorial program should not be the beginning of your Jewish learning but a continuation. The time before cantorial school is an opportunity to deepen your Jewish knowledge and practice. We expect our students to be in an ever-deepening relationship with Jewish life, and to have spent some time involved in the Jewish community.
Applicants to the cantorial program must be Jewish by birth as recognized by at least one major rabbinic body, or by a conversion process that is recognized by at least one major rabbinic body. Hebrew College admits qualified students without regard to age, sex, disability, race, color, national or ethnic origin, sexual orientation, gender identity/orientation, genetic information, military or veteran status. We do not admit or ordain cantorial students with non-Jewish partners. We warmly welcome applicants whose partners have undertaken a process of conversion and are committed to supporting them through that process.
Academic
Applicants must have a bachelor's degree from an accredited college or university and a competitive GPA. We do not require applicants to have taken the GRE.
Musicianship
Candidates for cantorial ordination must have previous music training. All applicants will be required to take a musicianship test which will assess proficiency in reading music, sight-singing and music theory.
Hebrew
At Hebrew College, we seek the wisdom that emerges when we deeply engage sacred Jewish sources in the original text. Your authentic interaction with the text demands significant study of the Hebrew language to enable you to discover the layers of wisdom within. Generally, applicants must have completed at least two years of college-level Hebrew to start the program.
Application Instructions
Cantorial Program

Rav-Hazzan Program

Merit Fellowships
Requirements
Bachelor's degree from an accredited four-year college or university
Application and fee
Resume
Official transcripts
Three letters of recommendation (electronic or printable)
Written personal statement and essay
Hebrew placement test
Personal interview
Vocal audition
Timeline
| Event | Date |
| --- | --- |
| Priority application due date | January 15 |
| Audition and Interview dates | Rolling through early March |
| Financial aid application (including 2020 taxes) and FAFSA due date | March 1 |
| Admissions decisions | Within two weeks of interview |
| Financial aid award date | April 1 |
| Accepted student response due date | April 15 |
If you would like to discuss the possibility of an extended deadline, please contact Admissions Director Rabbi Gita Karasov. We are able to make accommodations on an individual basis, though financial-aid awards may be more limited for late applications.
Checklist
All applicants must submit the following materials:
Two essays as described below
Resume
Official transcripts of all undergraduate and graduate studies from accredited academic institutions. Please have official copies of transcripts forwarded directly from the issuing institution. Electronic copies should be sent to admissionsoffice@hebrewcollege.edu and hard copies to the Office of Admissions, Hebrew College, 160 Herrick Road, Newton Centre, MA 02459.
Three or four letters of recommendation; see below for requirements (electronic or printable).
A completed Hebrew placement exam. Please contact Admissions Director Rabbi Gita Karasov to request a copy of the exam.
An official score report from the Test of English as a Foreign Language (TOEFL) for all foreign students whose native language is not English and who have not received a degree from an accredited United States college or university.
A non-refundable application fee of $60 paid by credit card as part of the online application.
Audition and Interview
The interview is an essential and required part of the application process for all Hebrew College graduate degree programs. This is an opportunity for us to get to know you better; for you to visit the campus, sit in on classes and meet students; and to learn more about the College and the cantorial program. During your visit to Hebrew College, you will also participate in a vocal audition, and take a musicianship assessment test. Candidates will be contacted to schedule a date once a completed application is received. For details of audition requirements, please contact Admissions Director Rabbi Gita Karasov.
Letters of Reference
We strive to consider our applicants as holistically as possible. Recommendations are a crucial part of this process. We want to hear from individuals who know you well and who can offer a view into your academic qualifications, intellectual capacities, personal qualities, Jewish background and/or spiritual journey.
Please include at least one reference from a cantor or other Jewish professional well-acquainted with your musical and Jewish background, and one, preferably, from an academic instructor.
If possible, please have people writing references fill out the electronic reference form. They may instead send in a hard copy, which can be found here, if they prefer.
Application Essays
Your responses to the application essay questions allow us to get to know you as an individual, a student, a Jew and a future cantor. In addition, these essays give you an opportunity to articulate your views on a variety of topics in a relaxed manner. We want you to be yourself and be honest in your essays.
Please submit two essays, of approximately 1,000-1,500 words each, in response to the following:
Why have you chosen to become a cantor? Discuss your intellectual, personal and spiritual development, as well as life experiences, specific events and significant relationships that have led you to make this decision. Please include reflections on:

Your conception of and relationship with God
The evolution of your current Jewish practice
Your relationship to the Jewish people and Jewish history, including your relationship with Israel

Read "The Vocation of the Cantor," Chapter 16 in "The Insecurity of Freedom" by Abraham Joshua Heschel. Respond to Heschel's views on the cantorate, prayer and Jewish music. In what ways do you agree or disagree with his assessment?
Application Submission
You may fill out the application by clicking here. Applicants are given access to an online portal after completing the online application form and will upload supporting documents there.
You are responsible to ensure that all of your application materials are received; we welcome calls or emails from candidates regarding the status of their applications.
Admissions Timeline for Rav-Hazzan Ordination Program
| Application Piece | Date |
| --- | --- |
| Priority application due date | January 15 |
| Interview dates | Mid-January to late March |
| Financial aid application (including 2015 taxes) and FAFSA due date | Feb. 15 |
| Admissions decisions | Within two weeks of interview |
| Financial aid award date | Mid April |
| Accepted student response due date | May 2 |
Hebrew College's rabbinical and cantorial programs award up to eight multi-year merit fellowships to incoming students each year. We are dedicated to removing financial barriers so we can enable people to fulfill their dreams and serve the Jewish people as rabbis and cantors. We are grateful to our generous supporters who have made these awards and all of our student financial support possible.
Awards are made based on academic achievement, leadership potential and demonstrated commitment to the core values of Hebrew College and our rabbinical and cantorial programs.
>> LEARN MORE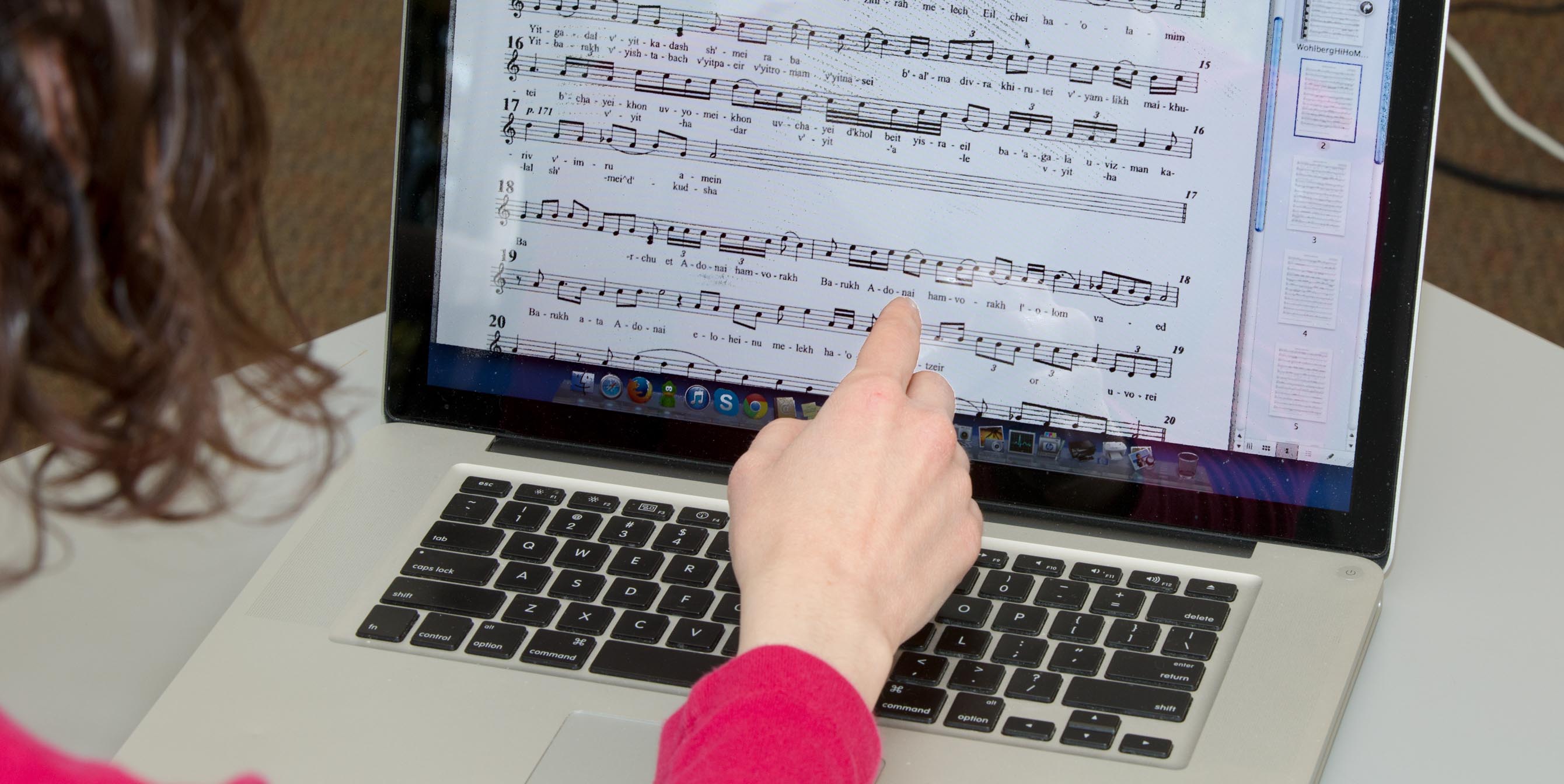 Financial Aid
Hebrew College is committed to helping you finance your cantorial education through the awarding of merit scholarships, donor-funded fellowships and need-based grants. The vast majority of students receive some form of financial aid covering a significant percentage of their costs.
Information about our financial aid policies may be found here. An application for financial aid does not in any way affect a candidate's application for admission. Read a description of Hebrew College's financial aid process.
---
Application Deadlines
Cantorial Program: January 15
Contact Info
Rabbi Gita Karasov `20
Director of Admissions & Student Life
gkarasov@hebrewcollege.edu