Community Blog

A Rabbi's Rabbi: Mentoring Leadership, Learning, and Love

By Hebrew College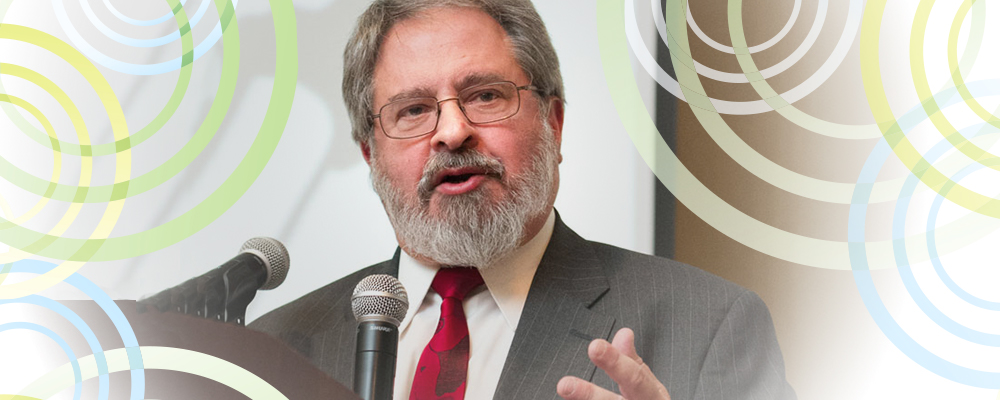 "All of us, as we go through changes in our lives, often hold the hand of someone for a short while who points the way—sort of stepping stones over a stream…"
—Rabbi Rim Meirowitz
As a teacher and mentor, Rabbi Rim Meirowitz has helped countless Hebrew College rabbis develop their voices, implement their visions, and advance along their spiritual paths.  He exemplifies what it means to lead and teach with creativity, passion and a caring spirit.
Rabbi Rim, our honoree for this year's (now virtual) spring event, is all about Leadership, Learning and Love. 
"I'm thrilled for this honor and what it means for me personally, but it really isn't just for me," said Rabbi Rim.  "It's for the Havurah idea—founded by Hebrew College Rector Rabbi Art Green and others in the 1960s—a kind of Judaism that is deeply meaningful, that is joyful, that is robust in terms of thinking and ideas. It means learning how to listen deeply to what's being asked of you, as opposed to first saying what your answer has to be; it means looking within the tradition to the human meaning underneath the halacha. It means having caring and compassion for the community. It is the kind of Judaism that inspired me and that I teach as a mentor to others."
Rim's compassion, says Rabbi Daniel Berman, Rab`10, the rabbi at Temple Reyim in Newton, MA, has helped him throughout his rabbinate.
"Rim taught me that to be a rabbi means always leading with compassion, and seeing the pain and vulnerability that others may be feeling even if they're not expressing it. I do my best to live this teaching, and to teach it to others as core Jewish spiritual work," he said. "Rim completely gives himself to you as a teacher, mentor and dear friend. He is so honest, and his comfort sharing his own stories of success, failure, and growth has always helped me feel less alone. This is his Torah, his unique way of teaching the truth of the human condition. It is a gift to be his student and friend."
Rabbi Allison Poirier, Rab`19, the rabbi at Temple Beth Sholom in Framingham, MA, says Rim has been a "guiding light" throughout her first year of her rabbinate.
"Rim has such a unique outlook on rabbinic life and leadership, and applies a lot of creativity in helping me develop my own personal approach to whatever challenges arise," she said. "He often flips situations on their head, showing me a different angle and leading me toward a different understanding. And he is particularly gifted in the way he challenges my point of view while also encouraging and supporting me."
And Rabbi David Fainsilber, Rab`14, spiritual leader and the first full-time rabbi of the Jewish Community of Greater Stowe, said he reaches out to Rim often for help with daily challenges. 
 "Being a congregational Rabbi, every day presents new challenges—interpersonal, organizational, spiritual, and emotional complexities that need to be met with kindness and clarity," he said. "More often than I care to admit, I reach out to Rabbi Rim to help me through these quandaries. When I call him, he is more often than he might care to admit, mentoring another Rabbi or student and will get back to me promptly. I value his wisdom, his clarity, his sense of what is right for the moment, his love of the rabbinate, his menschlichkeit, and on and on. I am so very blessed to call him a mentor, a colleague, a friend, and a part of his ever expanding sense of family."
Trained in the Conservative movement and later joining the Reform movement, Rabbi Rim Meirowitz has built community throughout Greater Boston. As the first Head of the Rashi School, the first Reform Jewish day school in the United States not connected to a synagogue, he brought a new vision of K-8 Jewish education to the area. As Rabbi of Temple Shir Tikvah in Winchester, MA for 17 years, he transformed a roving community of 225 Jewish families committed to full inclusion of interfaith families and a "willingness to meet members wherever they were on their Jewish journey" into a vibrant 350-family trans-denominational congregation with a permanent home.  He has also served as Education Director of the Temple Sinai/Temple Ohabei Shalom Hebrew School; as the rabbi at Temple Emunah in Lexington, MA and Temple Beth Israel in Waltham, MA; and as the first Rabbi on the board of InterfaithFamilies.com.
Rim says that when Hebrew College opened its Rabbinical School in 2003, he found a new home. His niece, Rabbi Suzanne Offit, Rab`09, enrolled in the first Rabbinical School cohort , His wife, Anne Meirowitz, started working for then-Rabbinical School Dean and now Hebrew College President Rabbi Sharon Cohen Anisfeld. Rim's daughter, Sara Meirowitz, Rab`13, and two sons-in-law, Lev Meirowitz Nelson, Rab`13, and David Finkelstein, Rab`14, were ordained from the Rabbinical School, and his daughter-in-law Mia Tavan is a current staff member at the College. Rim says that if the Rabbinical School of Hebrew College had existed in the 1970s, it would have been the place for him.
Rim teaches a portion of the Shana Heh (Fifth Year) Leadership Class, serves as a guest lecturer for other rabbinical classes, and is a committed mentor to many students and alumni, providing guidance and support as they apply for positions and embark on their careers in the Rabbinate. Since his retirement from Temple Shir Tikvah in 2014, Rim has taught community learners near his home in Peabody, MA through the Hebrew College Me'ah program and in the Brooksby Village retirement community where he and his wife, Anne, now live.
"The rabbi and cantor represent chesed, compassion, the power that is endless and comforting and that we all need. And the better the rabbi or cantor does this, the more they are needed," Rim said. "My role in mentoring is to support the person in finding that compassion within them and helping them form a relationship with their community where compassion flows both ways. If compassion springs from a single source—the rabbi or cantor alone—the well of compassion runs dry. If the clergy can create a communal cycle of compassion, it can always flow in a circle of caring. To help people learn to do that dance is an art that I teach, one rabbi, one cantor at a time. I think I mostly try to have the love and compassion that powers leadership and is the basis of relationships that flow smoothly between the rabbi and cantor, between the clergy and the leadership, and among the members of the community."
---
While we can't physically be together to honor Rim on April 29, we invite you to join us online via Zoom from 8-8:30 pm, when we honor him as part of our Leadership, Learning, and Love virtual series. Register here for the Zoom link. The event will also be available for streaming.
Please support continued leadership, learning, and love at Hebrew College. Please invest in a creative, vibrant, and meaningful Jewish future rooted in thousands of years of wisdom by making your fully deductible gift now.