Open Circle Jewish Learning 20s and 30s/Eser
---
Open Circle Jewish Learning 20's and 30's/Eser brings together young adults in living rooms (or online, due to COVID-19) throughout Greater Boston to build connection and community through stimulating, accessible Jewish learning and conversation.
View the Winter 2021 Course Guide [PDF]
time

20s and 30s

location

Living rooms and community spaces, and online

duration

Up to 8 sessions. Course lengths will vary-check individual class descriptions for details.
View the winter/spring course guide
Young Adult Events
Visit Facebook to see upcoming events.
Past Events
January 2019: The Nosh: Jewish Stories Told Live… at Mameleh's
More than 100 young adults in the Greater Boston area came together on Tuesday, January 26, 2019 at Mamaleh's in Cambridge for "The Nosh 2019: Jewish Stories Told Live…at Mamaleh's." The event featured more than a dozen storytellers, including a few who were inspired to participate at the event.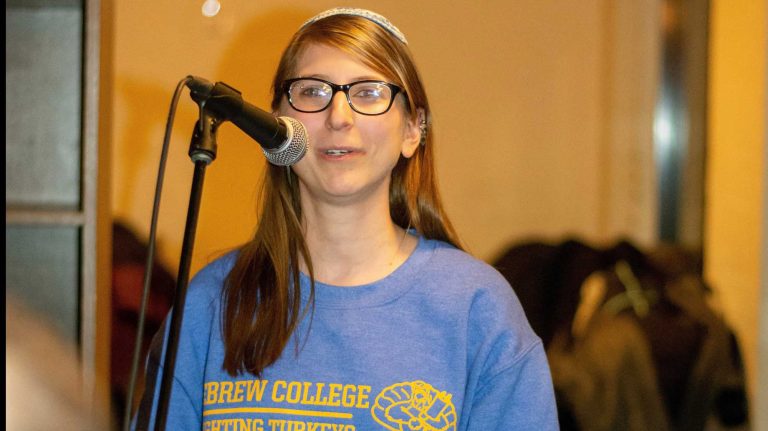 Meredith Reiches, Assistant Professor of Anthropology, the University of Massachusetts Boston

I abandoned Jewish education in high school, the moment my parents stopped insisting that I go… In the years that followed, I hopped from congregation to congregation for Shabbat and High Holiday services. I struggled to find a community where questions were as important as practices and where text-based inquiry combined with progressive values in a way that engaged my mind and heart…. Eser helped me to reimagine a Jewish identity that had not been updated in decades. Every week, through close textual reading in community with a gifted facilitator, was a fresh invitation to consider something I thought I'd made up my mind about, be it mysticism or the afterlife or the existence of the divine.
Sarah Gordon, project coordinator, Cincinnati Children's Hospital

I come from an interfaith family. My father is Jewish and my mother was raised Presbyterian…. My three siblings and I were raised Jewish and all identify as such, yet we don't have the same rooted faith and practice that some of our fully Jewish cousins do. That's why when I heard about Eser, my first thought was how much my Grandma would love and appreciate me taking it… Upon my first of the ten classes, I knew instantly that Eser would offer me so much more than just that. My group had deep, intimate, and sometimes difficult conversations. Seeing as the program's theme was "Ten Not-So-Small Questions," these big topics really cracked open the heart of each person's Judaism and how we identify with and practice our faith. While we were all 20 and 30-year old Jews living in the Boston area, we each had such different stories and ways of connecting to our Jewish roots. We learned so much from one another and the texts that we read.
Naomi Weinblatt, researcher, Brandeis University.

Although I wasn't new to Boston, I was new to the feeling of wanting to connect with other Jews in the area. And there are few things I love more than having deep conversations about meaningful topics in a homey environment. After speaking with staff at Eser about scholarship opportunities, I eagerly signed up for Spring sessions. Every week we met as an eager cohort excited about the topic to be discussed. The diverse backgrounds of each participant engendered unique perspectives as we shared opinions, experiences, and questions to ponder…. There were times in which everyone agreed with the way a topic was presented, and times in which no one did! These moments were important for investigating ourselves and how we felt about ideas we might not have considered in years…. Having the chance to connect meaningfully with my peers made a significant positive impact on my Jewish life in Boston, and I'm grateful to Eser for that opportunity!