Hebrew College Live! Stories in Honor of Our Teachers
Thank you to everyone who attended and/or made a gift for the Hebrew College Live! Stories in Honor of Our Teachers annual fundraiser on May 30, 2019 at Temple Beth Elohim in Wellesley, MA.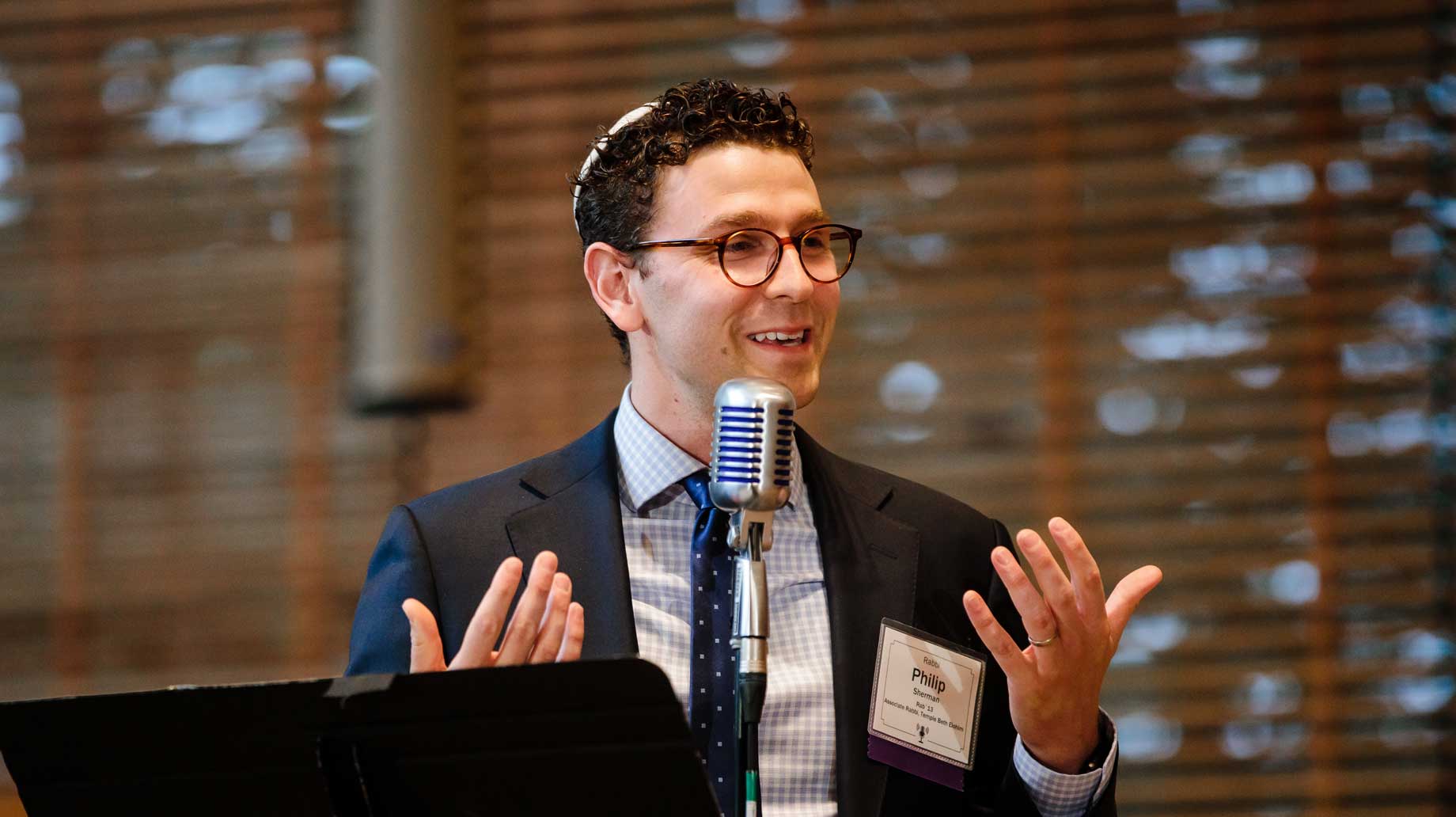 ---
More than 200 people celebrated a generation of teachers at the MOTH Radio-style storytelling night which featured emcee Mark Oppenheimer, host of Tablet Magazine's "Unorthodox" podcast, five storytellers, the presentation of the Esther Award for Leadership and Philanthropy, Yiddish music, and plenty of shmoozing, food and wine. Other evening highlights included remarks by President Sharon Cohen Anisfeld and a welcome by Rabbi Philip Sherman, Rab`13 of Temple Beth Elohim and Andy Offit, Chair of the Hebrew College Board of Trustees.
---
There is still Time to Honor Your Teachers
It's not too late to make a gift to Hebrew College in honor of a treasured teacher. Your celebratory gift helps support Hebrew College's mission to educate Jewish leaders and lifelong learners. Thank you!
Learn more about our storytellers and musicians who teach in Hebrew College graduate degree and community learning programs, Hillels, congregations, and universities.
Rabbi Tiferet Berenbaum, Rab`13, MJEd`13

Story: "Honor and Dignity"

Rabbi Tiferet Berenbaum is the spiritual leader of Temple Har Zion in Mt. Holly, NJ. She has a strong passion for working with children and a deep commitment to connection across generations and across communities. In her multi-faceted career, Rabbi Tiferet has a front seat at the intersection of race, racism and religion, giving her valuable insights into how different groups of people see the world and refining her powers of empathy. This summer she will be moving back to the Boston area to join Temple Beth Zion in Brookline as their Director of Congregational Learning and Programming.

Read more about Tiferet
Rabbi Dan Judson, PhD

Story: "The Ladies' Malbishiruim"

Rabbi Dan Judson, Ph.D. is the Dean of the Hebrew College Rabbinical School. He received his doctorate from Brandeis University in Jewish history and his book, Pennies for Heaven: The History of American Synagogues and Money, was a finalist for the National Jewish Book Award. He also likes to tell stories, mostly about himself because those are the stories he knows best. He has competed in the Boston GrandSLAM Storytelling Championship and one of his stories was featured on The Moth Radio Hour on National Public Radio. He is also the storyteller-in-residence at the Jewish Arts Collaborative night at the Museum of Fine Arts.

Listen to Dan's MOTH Radio Hour story
Celene Ibrahim, PhD

Story: "Coming Full Circle"

Celene Ibrahim is a member of the Advisory Council for the Betty Ann Greenbaum Miller Center for Interreligious Learning & Leadership at Hebrew College. She is the author of numerous publications in the fields of Qur'anic studies, women's and gender studies, and interreligious relations. She holds a bachelor's degree from Princeton University, a master's degree from Harvard University, and a PhD from the Near Eastern and Judaic Studies Department at Brandeis University. She is the editor of the anthology One Nation, Indivisible: Seeking Liberty and Justice from the Pulpit to the Streets. Her next book on female figures in the Qur'an is forthcoming from Oxford University Press. Dr. Ibrahim currently serves as the Muslim Chaplain for Tufts University and will join the faculty of Groton School later this year. From 2014–2017, she held a joint faculty appointment at Hebrew College and Andover Newton Theological School where she co-directed the Center for Inter-Religious and Communal Leadership Education.

Read more about Celene
Rabbi Margot Meitner, LICSW, Rab`14, MAJS`14

Story: "Bubbe and the Boichick"

Rabbi Margot Meitner is a Boston-based community rabbi and psychotherapist. She holds a B.A. in Women's and Gender Studies and History from Yale University, an M.S.W. from Smith College School for Social Work, and rabbinical ordination and a Masters in Jewish Studies from Hebrew College. Margot has a private psychotherapy and pastoral counseling practice at The Meeting Point and approaches her work with the understanding that individual healing is inextricably linked with collective healing and social change. She will be joining the Rabbinical School faculty in the fall to teach courses on pastoral care. She is also an accidental GrandSLAM Story Slam Winner, which itself is a great story for another time.

Read more about Margot
Rabbi Jordan Schuster, Rab`18, MAJS`18

Story: "Reb Nachman, Yiddish Nihilism, and That Time I Made Pilgrimage to a Jersey Mall"

Rabbi Jordan Schuster serves as Director of the Rabbinical School's Mekorot program and Associate Director of Open Circle Jewish Learning's Mysticism and Mindful Living track. Before receiving his ordination through Hebrew College in 2018, Jordan taught Yiddish literature and language at Columbia University in New York, studied psychoanalysis and queer theory in San Francisco, and tended the gardens and greenhouse of a small local grocery store in southeastern Wisconsin. He loves to bring Jewish texts – both classical and modern – to life with his students, and he feels blessed to watch how the meanings of these texts shift, refract and evolve as he and his students forge a way through them together.

Read more about Jordan
Music: The Richmond-Shazeer Family Band with Cantor Ken Richmond, Adjunct faculty, School of Jewish Music at Hebrew College; Rabbi Shira Shazeer, Rab`10 & Family

Ken Richmond & Shira Shazeer first met in a klezmer band 20 years ago. Since then, they've been playing music and singing together. Their family band includes their sons, Zalmen, Velvel, & (sometimes) Betzalel, who speak Yiddish as their first language. Shira is the school rabbi at MetroWest Jewish Day School in Framingham. Ken is the cantor of Temple Israel of Natick and is now studying in the Rabbinical School of Hebrew College.

Read more about the family band
---
"Not only is Rabbi Ebn Leader a walking, talking, beit midrash, but he uses his wisdom to guide others in the most loving, understanding, thoughtfully challenging, and practical ways. I find myself channeling his counsel regularly in my relationship with my congregation as well as in my relationship with the Holy Blessed One."
– Rabbi Scott Roland, Rab`13, MJEd`13, Rabbi at Congregation Shaarey Tikvah in Beachwood, OH
---
"Rabbi Benjamin Samuels' ability to recognize and amplify diverse sources made the class luminous."
– Me'ah Select Student
---
"Rabbi Or Rose, you and we were both new and we grew together: a young visiting scholar 
and a congregation trying to find a way to be together in our tent open on 
four sides. We emboldened each other (though you were always bold). 
We moved from an arrangement to a relationship. We became a functioning, 
free-thinking congregation—Netivot Torah—and you became a rabbi. You brought 
us knowledge, skill, heart, freedom, and courage with music and wisdom and spirit. 
You taught us to sing. Without you, it is hard to imagine who we would be."
– The Chatham Synagogue Netivot Torah
---
"Never in my life have I worked under a stronger, smarter or more poised mentor. Leah Goldstein's passion for social justice is infectious and, thankfully, it is reciprocated in many of her students, including myself."
– Lili Klayman, Jewish Teen Foundation of Greater Boston-JTFGB at Hebrew College alumna
---
"My Me'ah teachers were inspired and inspiring. They all, in their 
unique ways, gave me a new way to understand and think 
about Judaism. I'm so grateful, even at my advanced age, to have 
shared this experience. And more to come!"
– Allen Spivack
---
"Rabbi Jordan Schuster has an amazing ability to draw out deep thinking from his students."
– Rabbinical Student
---
"Dr. Deborah Skolnick Einhorn was a wonderful teacher and adviser. Her openness, guidance, and dedication to academic success was integral to me and others. I found her recent post on the Boston Moms Blog describing her own academic journey to be very inspiring and helpful as I take my own next step and begin rabbinical school at Hebrew College this fall."
-Ben Einsidler, MJEd/MAJS`15
---
"Dr. Jacob Meskin created an incredible presentation and showed delight in teaching the material. Every class Jacob taught allowed me to digest and reflect on what it means to be a Jew in America."
– Me'ah Select Student
---
"We have been fortunate to experience Rabbi Daniel Liben in the role of educator on numerous occasions. By helping his students find new perspectives into our modern lives, historical texts, and the links between them, we came away from our classes with Rabbi Liben with a greater appreciation for Judaism's role in parenting.
– Adam and Michelle Wilen, 
Parenting Through a Jewish Lens Students
---
"Rabbi Art Green taught me how to think about prayers more closely and creatively, and to explain them, in writing, in clear and inspiring terms. Having the opportunity to practice these skills with a master rabbi and teacher, someone who has spent so much of his life thinking about tefillah, was a privilege I will always treasure."
– Jamie Stolper, Rabbinical student
---
"Layah Lipsker has an incredible ability to share her love for and knowledge of traditional Judaism with an open mind and total acceptance of others. She is a wonderful teacher whom I have had the pleasure of studying with for many years, and the learning I have gained through her teachings goes way beyond the classroom, into my every day understanding of what it means to be Jewish. Thank you, Layah, for sharing yourself so authentically with your students."
– Open Circle Jewish Learning at Hebrew College student
---
"Rabbi Natan Margalit made it very comfortable to share out thoughts. He has a wonderful sense of humor and is extremely knowledgeable."
– Me'ah Classic Student
---
"Participating in the Open Circles course through Me'ah with Rabbi Neal Gold this fall was a gift I gave to myself… I selected the class for his wisdom, experience, esteemed reputation and my personal curiosity about the topic. As a result, I experienced renewed delight and connection with the Jewish community and with learning lishmah."
– Arinne Braverman, 
Open Circle Jewish Learning Student
---
"Dena Glasgow is empathic, reflective and 
leads you to revelations about your parenting 
and child that you only wish you had come to 
earlier. My husband and I leave each session with 
a renewed sense of optimism and energy about parenting. We are so grateful to her."
– Ellen Gager, 
Parenting Through a Jewish Lens Student