Humans of Hebrew College

"Student Rabbi Leszner"

By Sydney Gross
For fourth-year rabbinical student Ryan Leszner, internships have been an opportunity to experience real life as a rabbi before he has his own congregation.
Since moving to Boston in 2017, Ryan has served as a Shabbat song leader at Solomon Schechter Day School of Greater Boston in Newton; as the lifelong learning intern at Temple Ohabei Shalom in Brookline; and as the educator for the Riverway Project, a twenties and thirties group at Temple Israel in Boston. Now, he is in his second year as the rabbinic intern at Temple Beth Elohim in Wellesley.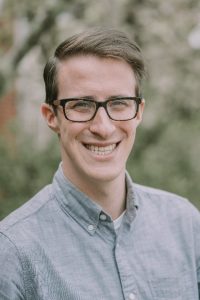 "What all these different jobs and internships have allowed me to do is to grow my skill set so that when I become a rabbi, I'll be able to have a load of lived experience to fall back on," said Ryan, who grew up in Toronto, Canada. "I'm starting to see what it looks like to be a rabbi without the pressure of having to do it on my own, so when I become a rabbi in a few years, I'll be ready to go."
Leszner is passionate about providing educational musical experiences that help connect people to Jewish teachings, traditions, and communities. He came to Hebrew College with experience in youth education. He had served as the director of youth engagement for Congregation Rodef Sholom in San Rafael, CA, and as a song leader at several synagogues in Toronto. As a child, he was very involved in his URJ camp and NFTY (National Federation of Temple Youth), the Reform movement's youth group.
He says his Boston-based internships have given him an opportunity to expand his experiences beyond youth education, and to apply what he's learning in Hebrew College classrooms. Through his current role, he works in the Temple Beth Elohim preschool, teaches both middle schoolers and adults, leads children's programs and adult services, runs spirituality and social action programs, and helps with lifecycle events including b'nai mitzvot, aufrufs, weddings, baby namings, funerals, and shivas.
"I feel lucky to be able to be rigorously connected to Torah, Talmud, halacha, and all of the other classes that we take, and to be able to utilize what I learn and try different things out within an internship setting. I get to be a student and a teacher at the same time," he said. "At Temple Beth Elohim, they see me as a teacher. It's amazing to be able to be part of a community that is committed to my growth and learning, and that is giving me opportunities to fail and succeed."
And Ryan's internship mentors say they are grateful to have a role in his development into a rabbi.
"Ryan's warmth, musical talents, and ability to connect with people of all ages made him a valuable part of our rabbinic team," said Rabbi Daniel Schaefer `18, assistant rabbi of Temple Ohabei Shalom. "During his time at TOS, he brought intriguing insights into Torah, a deep commitment to social justice, and a spirit of inclusivity that helped strengthen and grow our community."
"Ryan, affectionately known as 'Student Rabbi Leszner' has become a true member of our clergy team, bringing his energy, kindness, passion, and wisdom to our Temple community," added Rabbi Joel Sisenwine, senior rabbi at Temple Beth Elohim. "It has been a true pleasure to participate in his development as a rabbi. He is a true gift to the Jewish people, and we look forward to seeing his future unfold!"
---
Learn more about where our students and alumni serve around the country and world and join us for Ta Sh'ma (Come & Hear) 2021/5782, our fall Open House for prospective rabbinical and cantorial students on November 15 (in-person).