Community Blog

Meet the New Rabbinical and Cantorial Students

By Hebrew College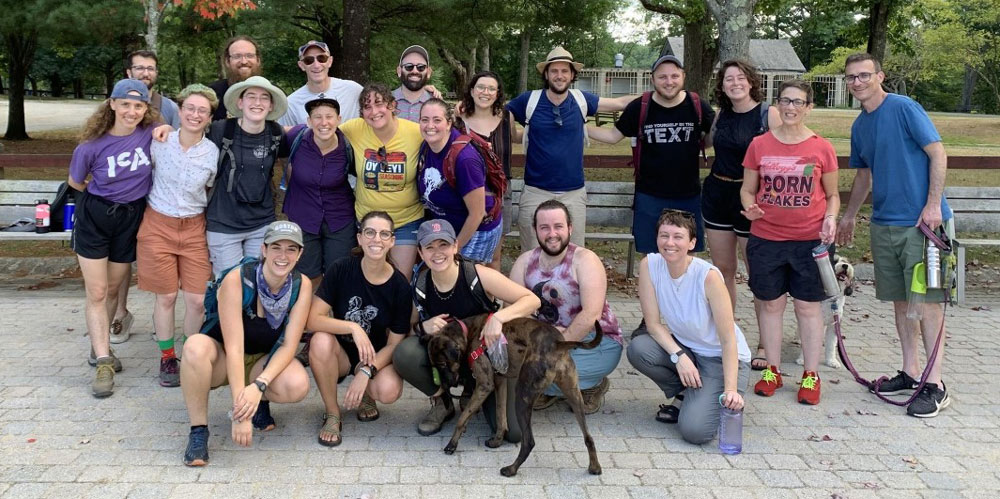 From former founders of fishing companies in Somaliland to attorneys, dance choreographers to graduate students, Hebrew College's new rabbinical and cantorial students begin (or continue) their journeys as future Jewish leaders. The new students entered the Mekorot (preparatory), Shanah Aleph, and Shanah Bet classes on Monday, August 29.
Meet some of these new members of the Hebrew College community below.
---
Rachel Steinberg (Cantorial)
"Hello! I'm Rachel (she/her). I'm originally from northern New Jersey but then I went to Brandeis for undergrad and never left the Boston area. I grew up Reform and was active in NFTY, acting as Songleader and then a regional board member. I can play four instruments (piano, guitar, ukulele, flute) and speak four languages (English, Hebrew, Spanish, American Sign Language). I recently married a huge nerd at the Museum of Science, and we love to play board games and DND together. I love learning new things, making PowerPoints, and disability advocacy. Looking forward to learning with you all!"
Hadar Ahuvia (Rabbinical)
"Hi All! I'm a performer, dancer, choreographer, singer, Jewish educator, and ritual facilitator. I grew up across the US/Turtle Island and in Israel/Palestine. Since graduating from Sarah Lawrence College, I've lived in Brooklyn where I've organized with JFREJ, worked at Jewish congregations across the denominations (Kolot Chayeinu, Kane Street, CBE, Lab/Shul), and created a cycle of performance works deconstructing Zionist folk dance in the downtown dance scene (as in in off off Broadway, see more at hadarahuvia.com). I Iove sharing shabbes meals, collaborative creative practice, and davening, which is when I feel most connected to ancestors, divine mystery and the world to come. My davening practice is inspired by my study of Qi Kung, and somatic abolitionism. Current passions include Ashkenazi hazones, and hassidic nigunim, which I'm thrilled to be studying with Hankus Netsky. I'll be living in JP thru mid October when she'll join her partner Rowan, who's coming to work on a project at ART, in Cambridge. I'm excited to bike, daven, sing, learn and move with you all!"
Becca Heisler (Rabbinical)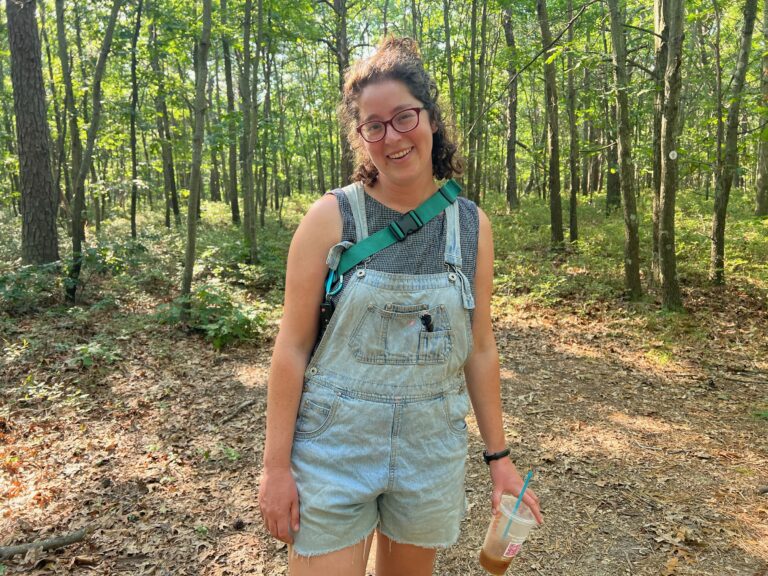 "Becca (she/her) is an outdoor educator, ritualist, caregiver, youth mentor, and folk herbalist who loves to be outside, and loves to laugh. Originally from the homelands of the Ojibwe, Odawa, and Potawatomi nations (the Chicago area), she has spent the past 5 years making home in Lisjan Ohlone territory (Berkeley/Oakland, CA). During this time, she has been facilitating Jewish outdoor education programs and guiding earth-based rites of passage for youth K-12 and adults of all ages with Wilderness Torah. She has spent the last year committed to the work of Jews on Ohlone Land, organizing the Jewish community in solidarity with the Sogorea Te' Land Trust. Becca just finished a 6,000-mile cross-country road trip, swimming in every lake, river, pond, and ocean she encountered. She's excited to greet the waters that flow through Boston & the surrounding area, and to get in a few swims before the semester starts!"
Alex Goldfarb (Rabbinical)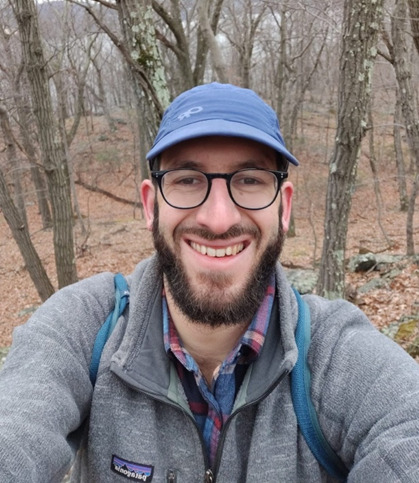 "Alex (he/him) is delighted to begin his studies as a rabbinical student this year. He is a co-founder and current Director of Amir, a nonprofit bringing Jewish garden and farm education programming to summer camps. In between stints with Amir, Alex spent three years living and working in Hargeisa and Berbera, Somaliland, where he co-founded a fishing company that brought fresh (never frozen!) tuna, mackerel, snapper, mahi mahi, and more to grocery stores, restaurants, and direct to households across western Somaliland. He has been blessed to learn with Yeshivat Hadar, SVARA, and Rabbi Joel Goldstein these past few years. Alex was 100% convinced his Alexandria Little League team would make the Little League World Series; a notion that was swiftly debunked. His athletic career has been going downhill ever since."
Rafi Abramowitz (Rabbinical)
"Waddup? Rafi is a new student at Hebrew College, entering Shana Bet as a transfer from JTS. Rafi was born in Mexico City and grew up between New Jersey, Jerusalem, and London. He was raised Modern Orthodox, and, after spending his gap-year at Yeshivat Eretz HaTzvi, became the Gabbai of the Orthodox Minyan at Brandeis University where he studied theatre and business, started his own company, and performed improv comedy. Since then, Rafi has moved into egalitarian spaces to foster Jewish environments that are equal, fun, funny, and filled with the wonderful singing he has learned to create as a professional High Holy Day Chazzan. For this coming Rosh Hashanah and Yom Kippur, Rafi will be returning to lead services at Congregation Agudas Achim in Bexley, Ohio. Rafi is excited to move back to Boston, where he hopes to play tons of softball, meet great friends, and continue writing his play about a slave-owning Rabbi who hosts a Passover Seder during the onset of the American Civil War. For the upcoming year, Rafi will be the Rabbinic Intern at Temple Emunah in Lexington, Massachusetts. Other fun facts about Rafi — he spent the summer of 2022 leading Canoe trips into the wilderness for Ramah Canada, is 5'6″ (but 5'8″ with tefillin), and once aced a Navi test without studying. Does that make him a prophet? Find out … "
Anna Wolfe (Rabbinical)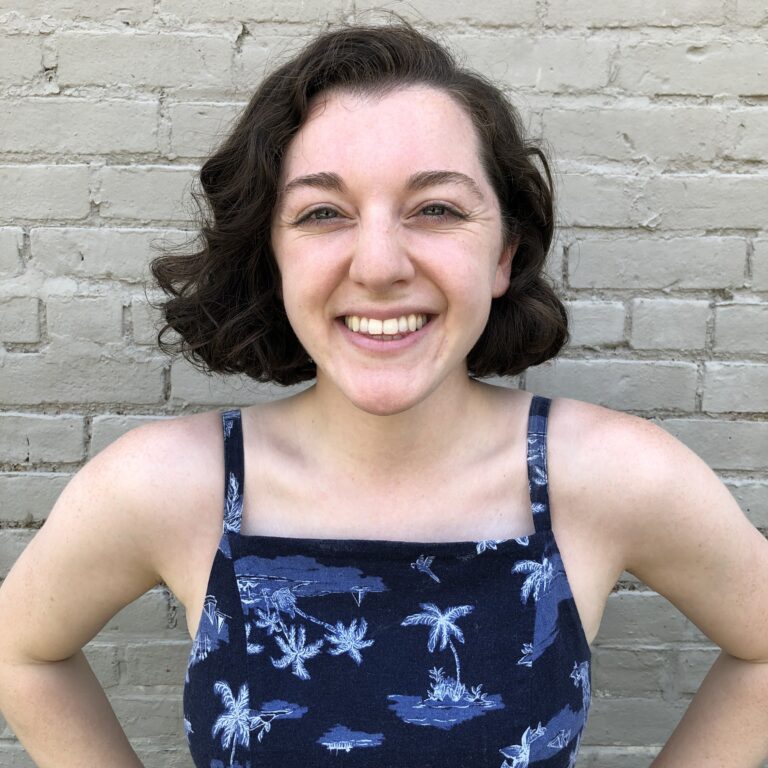 "Anna (she/her) is joining the Hebrew College community this year as a Shana Bet rabbinical student after spending the past two years at JTS. She grew up in Milwaukee, WI and attended undergrad at Columbia College Chicago, where she studied theater and gender studies. After undergrad, Anna worked as a theater artist, a teaching artist in Chicago Public Schools, and as Mishkan Chicago's family programer and educator. Last year, she was Muhlenberg College's rabbinic intern, and a Froman Fellow through the New Israel Fund. Anna spends her summers as a staff member at the Brandeis Collegiate Institute (BCI) in California. She is in Jerusalem studying at Pardes this year and cannot wait to join the rest of the HC community in Boston afterwards!"
Aaron Berc (Rabbinical)
"Aaron (he/him) is thrilled to be starting Mekorot at Hebrew College this fall. Aaron hails from Minneapolis, Minnesota, where he's spent most of his life—aside from four years at the University of Kansas studying environmental studies, physics, and college basketball. Rock Chalk Jayhawk! The Rabbinate is Aaron's third career, and comes to Hebrew College after a five-year stint in corporate regulatory compliance at Ecolab Inc., and another five years as a Community Organizer with Jewish Community Action. Recently, Aaron's organizing work helped win a Rent Control Ballot Initiative in Minneapolis after five years of movement cultivation helping the Twin Cities Jewish Community make an impact on issues facing renters, fighting gentrification, and seeking equitable community development. Aaron has long chased the next transformative Jewish experience; from Jewish summer camp to USY, and from Jewish organizing to The Adamah Fellowship—he finds value in sharing experience, sharing song, sharing food, and sharing love. He recently completed a Certificate in Jewish Ethics and Social Justice from The Jewish Theological Seminary and is excited to continue to deepen his Jewish learning & practice over the course of the next six years. Most recently, he was the Rabbinic Community Engagement Intern at Shir Tikvah Minnesota. Aaron is motivated by seeking harmony – harmony of the soul, harmony in relationships, harmony between all living things, & harmony on high. He hopes to learn a little bit more about how to create harmony through righteous Torah with all of you. Aaron likes the Minnesota Timberwolves, playing basketball & ultimate frisbee, going for a run, hiking, Star Wars, Lord of the Rings, and many other items of pop culture ephemera he can make meaning out of."
Monica Steiner (Rabbinical)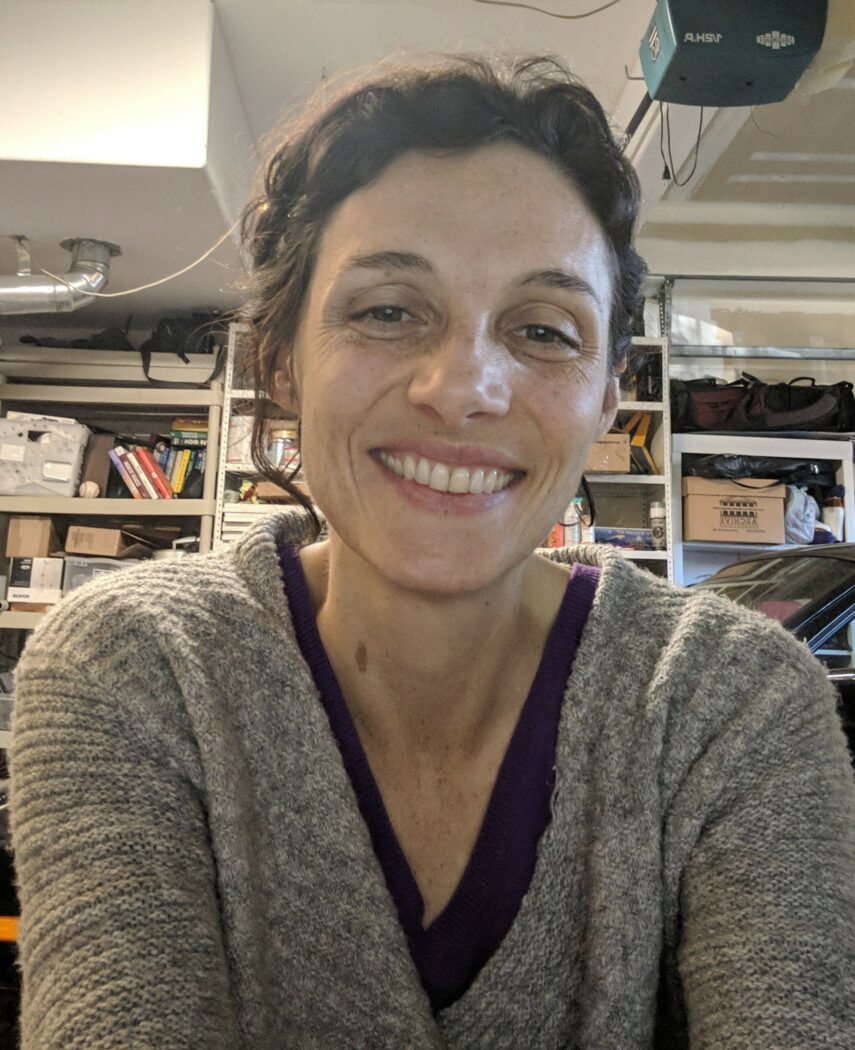 "It's a liminal moment for my family! We are moving across country from Santa Barbara, CA so I can attend Hebrew College. My partner Michael is an engineer, surfer, and Project Runway judge (amateur). Our kids are 4 (kosher ham), 7 (sparkly snuggler), and 10 (serious student and jock). I am an attorney turned Jewish communal professional, and a writer, artist, and singer. We are uprooting from our large Reform congregation where I've worked as a lay leader for 11 years and on professional staff for the past five+, most recently as Director of Donor Relations.
And I can't wait to meet YOU: To revel in sitting at the (proto)clergy table together – playing seriously, arguing, laughing, loving each other and our Torah in all our/its infinite flavors and forms. I am so excited, grateful, and a little awestruck to be able to study Jewishly as a full time pursuit and have a career thereafter in the professional lane I've so long yearned after."
Lisa Schnapper (Cantorial)
"Lisa is thrilled to begin cantorial and rabbinic studies at Hebrew College. Her life-long search for spiritual meaning, combined with her passion for singing Jewish music, has led her to the Cantorate. As a member of Larchmont Temple in Larchmont, NY, Lisa has led the Shabbat Musical Minyan, Summer Shabbat Services, and Chevrah Torah. She sings with Shir Ami, LT's adult choir, and with Shir Chadash, the LT band. Lisa also helps lead a monthly Mussar group. In addition to her Cantorial pursuit, Lisa sees herself as a Healing Artist. She graduated from the Barbara Brennan School of Healing and has a healing practice in New York City. Lisa loves making authentic connections and is excited to do that with the chevra at HC!"
Naomi Zipursky (Rabbinical)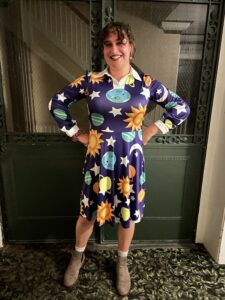 "Naomi is thrilled to begin as a Mekorot student in the fall! Naomi grew up in Omaha, Nebraska, and attended Emory University in Atlanta, GA, where she studied Linguistics and Religion. After graduating in 2017, Naomi moved to the Best Coast to work at San Francisco Hillel, where she spent 4.5 years engaging undergraduate and graduate students across the city. One of her favorite programs she facilitated was an annual Beyonceder, combining her favorite holiday of Passover with a celebration of Queen Bey. Outside of Hillel, Naomi spent summers learning in the Pardes beit midrash and dancing barefoot at BCI – Brandeis Collegiate Institute. In addition to all things Jewish life (of course), Naomi's passions include rewatching movies, Latin music, historical fiction novels, and greeting every dog she encounters out in the world. Though slightly skeptical about trading the magic of San Francisco for Boston winters, Naomi is excited to take chances, make mistakes, and get messy at Hebrew College."
David Magazine Malamud (Rabbinical)
"David is stoked to be joining his friends in Shanah Bet, this year as an actual student! David fell in love with Hebrew College while transitioning out of a PhD in Religion at Boston University, working on a dissertation on ancient Jewish crap (yes, really, I wrote about excrement, ask me about it). Over the course of a brutal global pandemic and comprehensive exams, David decided to do something meaningful with his time and learn Talmud instead. As a recovering academic, David has spent summers bouncing around institutions, learning at JTS and Hadar. Previously, he completed his Bachelor's of Arts degrees in Jewish Studies, History, and Classics from the University of Maryland, College Park. Starting last year, David has worked as the Rabbinic Intern at Boston College Hillel. He loves guest lecturing in classes, working in multi-faith spaces, and of course, getting free coffee with students! In his spare time, David enjoys reading, tending to his balcony garden, and terrorizing the local turkeys of Boston with his trusty companions Lilah (dog) and Rebecca (wife)."
Julian Cohen (Rabbinical)
"Julian (he/him) is excited to be joining Hebrew College in Mekorot this year! He grew up in Arlington, VA before moving to Appleton, WI to study Music and Gender Studies at Lawrence University. He was very involved with Hillel and after a brief stint in an evangelical coffee shop, decided to reenter the Jewish professional world. Julian has spent the last two years living in Jackson, MS working for the Institute of Southern Jewish Life, serving communities across the deep south, tutoring students for their b'nai mitzvot, eating lots of good barbeque and learning the proper time to use 'y'all' in a sentence. He's thrilled to once again live somewhere with public transit and snow! Julian loves long hikes, bikes, and will gladly chat about the benefits of solar and wind technology. He's fascinated with Hebrew linguistics and the antics of Talmudic rabbis. On a day off you can find him reading, playing horn, or baking something in the kitchen."
Hannah Limov (Rabbinical)
"Hannah (they/she) is an incoming Mekorot student and is deeply excited to join the Hebrew College community. They spent the vast majority of their 20's oscillating between the venn diagram of environmental education, Jewish education, and social work in the beautiful Blue Ridge Mountains in and around Asheville, NC; working as a wilderness therapy field instructor, fighting and advocating against domestic and sexual violence, and learning deep Torah from religious school students at multiple synagogues, among other things. She additionally sunk deep into the world of land-based Judaism through the Adamah Fellowship, serving as a Teva educator, and spending a season living, working, and building community at Yesod Farm + Kitchen in Fairview, NC. They received their BA in Environmental Studies and Cultural Anthropology from CU Boulder, their Master of Social Work from Western Carolina University, and have additionally loved learning with SVARA. Having spent the past several months living at home caring for their 100-year old Grandmother (who is still thriving and trying to get rid of her walker every chance she gets), Hannah has learned the never-ending value of family stories, the magic of libraries, and a good hot dog. You can often find them digging their hands deep into the soil tending to plant babies, hiking/backpacking in the woods listening to the song of the blackbirds, singing joyously and off-key with friends, or cuddling and obsessing over her kitties Lily and Padfoot."
---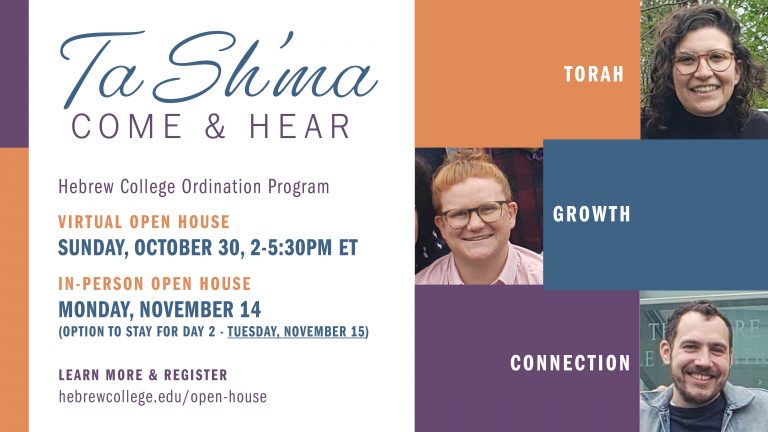 Learn more about Hebrew College's pluralistic rabbinical and cantorial programs.  If you or someone you know has considered the rabbinate or cantorate, please join us for our fall in-person or online Open Houses. Learn more and register here.