---
details
Date

time

location

Zoom; please RSVP by noon (EST) today

cost

Free; RSVP required by noon

organizer

Hebrew College
share with friends
description
UPDATE: THIS TALK HAS BEEN MOVED TO ZOOM DUE TO THE WEATHER
Join us for the second of our public Rabbinical School-alumni-led talks about the Torah portion of the week as it pertains to our "Seeing Torah" art exhibit on campus. The event is free of charge and will be offered on Zoom on Tuesday, October 26 at 1:15 p.m. with Rabbi Allison Poirier `19.
Rabbi Allison will speak about Parashat Chayei Sarah: What happens after the Akeidah? Does Sarah ever find out the truth of what happens to her son, and does Isaac know the truth of how his mother dies? Who is Keturah, and how is she involved in the drama surrounding Sarah's death?
Additional talks:
On Zoom: Tues., Nov. 9 at 1:15 p.m. with Rabbi Eliana Jacobowitz `10 — RSVP
Wed., Nov. 17 at 11:00 a.m. with Rav Hazzan Aliza Berger `17 — RSVP
Wed., Dec. 8 at 11:00 a.m. with Rabbi Jamie Kotler `16 — RSVP
---
About Rabbi Allison Poirier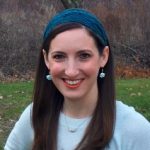 Rabbi Allison Poirier joined Temple Beth Sholom in Framingham, MA in July 2019, and is TBS's first female rabbi. Rabbi Poirier brings to our community great energy, creativity, and the ability to make immediate connections with people of all ages. She embraces TBS's goal of continued growth through outreach and innovating programming.
Rabbi Poirier has dual undergraduate degrees from Barnard College and the Albert A. List College of the Jewish Theological Seminary. After graduation, she spent two years traveling the south as an Education Fellow with the Institute of Southern Jewish Life. She has also returned to the south to lead several small-town seders for the ISJL Passover Pilgrimage.
She received her Rabbinical Ordination and Master's of Jewish Education from Hebrew College where her Master's Thesis explored the use of the Torah Godly Play curriculum with elderly populations, and she is eager to share Torah Godly Play with students of all ages at TBS. While in rabbinical school, she also served as Rabbinic Intern at Temple Israel in Sharon where she created the Chevra, a group for young professionals.
When she's not at TBS, Rabbi Poirier can be found hiking, reading, and cheering enthusiastically for all the Boston sports teams.