Jewish learning

The Kids Are All Right

By Wendy Linden
Hebrew College Teen Fellows & Ambassadors Take Action to Help Heal Our City
Food insecurity. Homelessness. Health education. These systemic problems have been amplified during this challenging pandemic year—particularly for underserved populations. "We can't just stand by," said Rabbi Or Rose, Founding Director of the Miller Center for Interreligious Learning & Leadership of Hebrew College. "We have to respond to the moment with care and creativity. Who better to step forward than teens, with their energy, idealism, and fresh thinking?"
This year, Hebrew College's Miller Center quickly launched into action—initiating three new hands-on programs for youth and young adults: The Dignity Project, The COVID Youth Commission, (pictured above) and the COVID-19 Faith in the Vaccine Ambassador Program. "The response has been inspiring," said Rabbi Rose. "Young leaders throughout Greater Boston are seeking ways to make a tangible difference during a very difficult time."
Teens chosen for the these highly-selective Hebrew College programs hail from diverse backgrounds, neighborhoods, and faiths, but share a common passion for addressing the challenges of the pandemic and our world today—through education, the arts, direct service, and advocacy using their creativity and savvy to accomplish their goals. Each program provides teens with mentorship, leadership training, interreligious and cross-cultural collaboration, and connections to new and different people and ideas. (Pictured above: COVID Youth Commissioners putting together COVID kits for homeless shelters.)

COVID Youth Commission
The COVID Youth Commission, a partnership between the Miller Center and the Center for Teen Empowerment, is a five-month (spring semester 2021) program for 26 teens from diverse communities and neighborhoods throughout Greater Boston who are committed to addressing the challenges of the COVID-19 pandemic, including some longstanding justice issues that the health crisis has brought to light or exacerbated. Student commissioners work on one of three project teams: Advocacy, Direct Service, or Multimedia, meeting weekly from February through June on Zoom, Slack, and more recently in-person with their mentors and peers.
"These kids are amazing. It really is the highlight of my week," said Rafi Ellenson, Hebrew College first-year rabbinical student and COVID Youth Commission mentor. "There is something special about pluralistic learning opportunities in which we are not only encouraged to challenge ourselves individually but to create projects that are immediately relevant to others. Through this program, I have learned to be a mentor to young leaders who are different in many ways from me, not only discovering our common humanity but working to achieve common goals." 
The Advocacy Team is working on destigmatizing the use of food pantries by creating an information campaign and recruiting long-term volunteers, particularly their peers. They are partnering with local pantries to organize volunteer drive days, and using the power of their networks—friends, school and community groups, teachers and administrators—and their social media know-how to encourage participation in this critical effort.
The Direct Service Team is collecting material and financial donations that will enable them to create personal care kits for area homeless shelters. The kits include COVID-specific items like masks and hand sanitizer, as well as materials (in English and Spanish) on free COVID testing sites and vaccination information.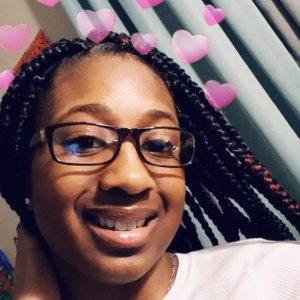 The Multi-Media Team is working to amplify the work of the other two teams, and to share meaningful and timely COVID resources from local and national experts. They are also featuring pandemic stories (called #COVID Chronicles) of the COVID Youth Commission fellows and special guests to help increase compassion and connection in this time of great pain and prolonged isolation. They have created a web hub through Hebrew College at hebrewcollege.edu/cyc and an Instagram account @covid.youth.commission. #CYCMakingChange. (Above CYC banner design by the Media Team.)
All three groups are working with local community partners, including Bread of Life, Bridge Over Troubled Waters, Children's Health Watch, Pine Street Inn, Rosie's Place, and We Got Us: A Community Empowerment Project.
Faith in the Vaccine Ambassador Program
With Massachusetts vaccine rates rising, there is a pressing shift toward vaccine education and outreach for underserved Boston area neighborhoods where vaccine hesitancy is high. In response, the Miller Center has teamed up with Interfaith Youth Core to pioneer a national program for teen student ambassadors. Interfaith Youth Core is spearheading the project nationally, and Hebrew College is organizing the Greater Boston effort, with help from local partners Turn In Reach Out, We Got Us, and Black Boston COVID Commission. The program will begin in June, picking up where the COVID Youth Commission leaves off and allowing some COVID Youth Commissioners the opportunity to transition into ambassador roles.
"We are honored to work with the Interfaith Youth Core and local Boston partners to empower youth and young adults from diverse walks of life to engage in this sacred and urgent public health campaign," said Rabbi Rose.
With the guidance of mentors, COVID Vaccine Student Ambassadors (approximately 35 total) will participate in trainings and then work to plan and implement accessibility and trust-building projects in high need communities where they are connected. They will also learn to work with leaders from culturally and religiously diverse institutions to promote vaccine trust and increase accessibility. The Hebrew College effort is led by incoming Miller Center Community Educator Kim Bress, a recent graduate of the Boston University School of Theology.
Dignity Project
The Miller Center began planning for The Dignity Project before the COVID outbreak because of a growing need to help teen leaders in our city navigate the diversity of American life during a time of widespread political and cultural polarization. But the pain and isolation of the pandemic and the recent social uprising made the mission of this new project even more urgent and relevant.  

The Miller Center launched the project in fall 2020, in the thick of the pandemic, to train an initial cohort of 15 outstanding high schoolers from Greater Boston to serve as interreligious and cross-cultural leaders, with the capacity to engage the diversity of our city (and broader society) with thoughtfulness, skill, and care.
Throughout the year, members of the inaugural fellowship cohort—from Baha'i, Buddhist, Muslim, Jewish, and Christian traditions, and secular communities—met monthly to learn the theory and practice of interreligious and cross-cultural leadership, including strategies and tactics to cultivate resilience and joy amid an unprecedented wave of illness, loss, anger, and uncertainty. They also learned how to have "courageous conversations" about potentially divisive issues like the presidential election.
At the end of the program, the students collaborated on five projects to positively impact their communities and beyond. The groups used podcasting, visual art, writing and Zoom to create spaces for courageous conversations.
Podcasting and Zooming: Three young women invited their peers to a creatively and tightly facilitated Zoom gathering on social justice topics close to their hearts and lives: Islamophobia, voting rights and restrictions, and mental health stigma. They designed the space to promote both learning and interactive dialogue and led the session with passion, confidence, and care.
The podcast team conducted interviews with people of different political and religious beliefs and blended their interviews into a dynamic podcast that presents three different stories and perspectives.
"One of the gifts of the Dignity Project has been the creation of a space to practice having hard conversations," said 12th-grade fellow Aliza Copens. "It is something that you don't really understand the full value of until you are in a space where that approach to discourse is cultivated purposefully."
Written and Visual Arts. The two visual arts teams worked creatively to develop two distinct pieces: one demonstrates a message of unity amidst differences in the City of Boston, while the other communicates the vast political and social differences between Americans in today's landscape (even when they share similar religious beliefs). The writing team produced a Writer's Digest highlighting one creative writing piece for each of the first 12 month of the pandemic. The pieces were written by the fellows and other guest contributors.
"With something as challenging as politics, art can provide a path forward," said Olivia Bancel, a fellow on one of the visual arts teams. "I've always found that art can help us explore hard and controversial topics in beautiful ways that would otherwise be really hard to approach."
---
Learn more about the Miller Center's work in response to the pandemic, including last fall's PsalmSeason series—a collaborative project with Interfaith Youth Core that illuminates the Psalms through spoken word, art, poetry, and music.