Centennial

Connecting Community
through Music: Honoring
Cantor Louise Treitman

By Sydney Gross
In the late 1980s, Louise Treitman, a local cantorial soloist, and a group of fellow cantors, met with then-Hebrew College President Samuel Schafler z"l, to brainstorm opportunities for continuing music education at Hebrew College. Out of that meeting came the Hebrew College Jewish Music Institute — a predecessor to the Hebrew College cantorial program.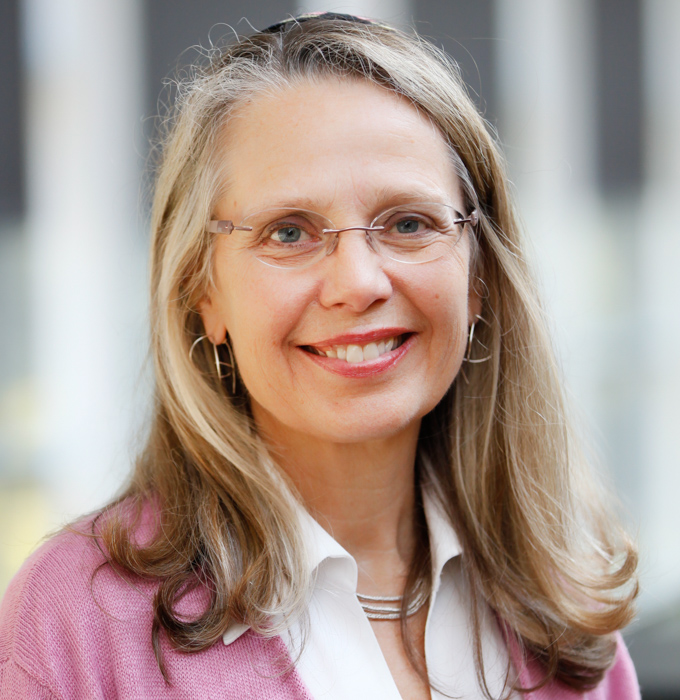 Treitman became the first coordinator of the institute, as well as one of the first certificate recipients from the institute. And she has continued her involvement over the past 30 years, as a beloved instructor, mentor and advisor for the Hebrew College cantorial program, inspiring dozens of cantorial, rabbinical and education students to bring soul and spirit into their work with music, text, and Jewish practice.
In April, as part of the Hebrew College Centennial celebrations, Hebrew College will honor Cantor Louise Treitman, a longtime faculty member, advisor and cantorial coach, and past Associate Dean of the School of Jewish Music, for her commitment and contributions to the College and the community at a special concert, "Shirah B'Yachad – Singing Together!" on April 5 at 7:30 p.m. at Temple Reyim in Newton (and livestreamed.)
"I'm overwhelmed at this honor, and so grateful," Treitman said. "Over the years, I have wanted to learn from everyone and everywhere I could. At first Hebrew College provided me an opportunity to do that. The College welcomed me as someone who was on a path, on a journey. I kept walking the path, and Hebrew College has continued to guide me along the way. Although I will always want to learn, with my work at the College, I have also had the opportunity to guide others."
Treitman grew up in Wellesley, Mass., in a family that was very active in the Unitarian church. She converted to Judaism at age 21, while at Wellesley College. She studied music and religious studies, with a focus on Judaic studies, and then went on to teach elementary school music, having trained as a Kodaly music educator. She also earned a master's degree from New England Conservatory in Viola da Gamba, a Renaissance/Baroque string instrument.
When her children were young in the 1980s, Treitman got involved with Newton's Reconstructionist Havurah, and offered to sing during the High Holidays. She had taken some voice lessons, but wasn't a professional singer; so she spent the summer learning on her own. After the services, many of the congregants said, "You're good at this. Have you ever thought about being a cantor?" This was the beginning of her new path.
Treitman remained as the Havurah's cantorial soloist for five years, finding cantorial mentors in Cantor Jodi Sufrin at Temple Beth Elohim in Wellesley and Cantor Charles Osborne at Temple Emanuel in Newton. She also studied with Cantor Gregor Shelkan z"l from Mishkan Tefila. Later, Treitman took on cantorial soloist roles at Temple Beth David in Westwood and Temple Israel in Natick. In the early 1990s, she and two others became the first recipients of certificates in Jewish choral conducting from Hebrew College.
When Hebrew Union College expanded their remote cantorial certification program, Treitman jumped at the opportunity, studying on her own, working with Cantor Sufrin, and taking exams in New York. Once invested as a cantor, she joined the board of the American Conference of Cantors, became the founding president of the New England Board of Cantors, and was hired as a cantor at Temple Beth David in Westwood.
After retiring from the full-time pulpit and becoming Cantor Emerita in Westwood, she served as part-time cantor at Temple Sinai in Sharon, Mass. and later, at Beth El Temple Center in Belmont, Mass. In recent years she has served as the High Holiday Cantor at two congregations in Italy—first at Florence's Shir Hadash Firenze and currently at Rome's Beth Hillel Roma. Both congregations are part of the World Union for Progressive Judaism.
During all of these years, she always remained involved with Hebrew College. Earlier in her career, she joined Hebrew College's Ulpan program to improve her Hebrew. While serving as cantor in Westwood, she earned a certificate in Family Education at Hebrew College. And when Hebrew College created its cantorial program, she was hired to help with recruitment. This developed into a bigger and bigger role, and she ultimately became the Associate Dean of the School of Jewish Music. She remains as a Senior Advisor to the cantorial program and serves on the faculty, teaching cantillation to rabbinic and cantorial students, while also coaching and mentoring ordination students.
"I have been connected to Hebrew College over so many years and in so many ways," she said. "As a Jew who has never defined myself with a movement, I connect with the pluralistic approach of the College. I am grateful to be part of a cantorial program that trains cantors to serve the community as spiritual leaders—knowledgeable in text as well as Jewish musical practices, trained in pastoral care and prayer leadership. I believe in the integration of rabbinical and cantorial studies and am glad the College has chosen this direction. I am honored that the college is celebrating my involvement and look forward to a beautiful concert."
---
For tickets and tributes to attend "Shirah B'Yachad – Singing Together! A Concert Celebrating Cantor Louise Treitman" in person or via livestream, please visit the event page here.