What makes a meaningful Jewish learning experience? How is Jewish learning a spiritual practice?  How can you connect Jewish spirituality, learning, and creative expression? 
These are questions that I asked throughout my time in Rabbinical School at Hebrew College, and which I explored repeatedly with my chavruta, my study partner; with my classmates and teachers; as well as through the Ministry of Magic Arts Integration Team, a committee to promote creative arts expression in the Rabbinical School, and as co-organizer of "Emunah V'Omanut: Creative Responses to an Ancient Tradition," an art exhibit that showcased the work of Hebrew College students, faculty, staff, and families. My master's thesis for my Jewish Education degree, "Chochmat Lev: Fostering Creativity, Holistic Learning, and Spiritual Growth in Jewish Education," was a culminating expression of this interest.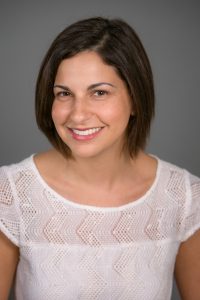 My experience at Hebrew College deeply impacted who I am today as a person and as a trans-denominational rabbi, creative spiritual educator, and Jewish entrepreneur. In my work, I incorporate experiential Jewish learning, Jewish mindfulness, creative expression, and ritual, utilizing different modalities for self-exploration and connection. My work embodies "Jewish creativity," one of Hebrew College's core values. "Creativity," in fact, inspired the name of my organization, The Tasman Center for Jewish Creativity, which offers group gatherings and workshops on Jewish spirituality and creative expression, private rabbinic support and Jewish coaching, and personalized life-cycle officiation.
But in the years since graduate school, I have continued to ask questions about spirituality, learning, and creative expression, and have sought out others with whom to discuss Jewish Learning as spiritual practice — the way that Rabbi Dr. Michael Shire, Dean of the Shoolman Graduate School of Jewish Education, supported me in writing my masters thesis. Outside the walls of Hebrew College, I have found it more difficult to find colleagues, mentors, and trusted friends to ask questions about the field, and to share my work and exploration. How are the other practitioners in the field teaching in this way? 
In 2019 my colleague, Jane Shapiro, co-founder of Orot Center for New Jewish Learning in Chicago, and I were asked to organize a track for the Kenissa: Communities of Meaning Network Cross-Training, which connects individuals who are leading contemporary efforts to re-define Jewish life. Knowing that personal and professional development go hand in hand, our vision was to bring together leaders of emergent Jewish communities so they could have a personally meaningful learning experience that would help us all grow as practitioners in our field. 
Over the spring, summer, and fall of last year, Jane and I worked to identify other practitioners in the field who we could invite to present and participate. Since the Kenissa Cross-Training was happening in December 2019, during the month of Kislev, we asked each of our presenters to offer a learning experience connected with the themes of the season: Hanukkah, light, darkness, and/or winter. Our desire was for each session to provide a chance for participants to connect deeply with themselves, with one another, and with Hanukkah, while learning through a variety of modalities including text learning, chevruta partner learning, meditation, yoga, movement, food ritual, and creative writing. 
Our Cross-Training was part-conference, part-training, and part-retreat, with ample time for sessions presented by Jewish professionals and conference attendees, as well as informal networking conversations. It included a text and chevruta based session called: When a Candle Isn't Just a Candle: What Beit Shammai Can Teach Us about Chanukah, Fear, and Life led by Rabbi Benjamin Barer, Rab`18, a fellow Hebrew College alum and a faculty member at the Charles E. Smith Jewish Day School. I co-led a session entitled Building a Blessing: A Hanukkah Ritual Honoring Oil, Darkness and Light. We also had a session with meditation, yoga and text called Hanukkah: Embodying Light and a creative writing session entitled A Light Onto the World: A Special Class in Mindfulness & Writing. In our last session, the founder of Svivah, a woman centered community, gave a How I Built This talk on the creation of her organization. 
In my session, my co-facilitator and I talked about the role of oil in Jewish tradition in honor of Hanukkah as we passed around a small glass jar of oil and invited participants to smell it or rub a little over the hands or hair. In addition to the spiritual significance of oil, we taught the practical significance of the oil: how the oil adds flavor to food, provides a conduit for light and heat, conditions and heals, so too does Jewish wisdom and Jewish ritual add flavor, is a conduit for illumination, connection and transformation. We also led a plate making ritual that involved placing various herbs, spices, seeds, oils, and other objects onto a plate to embody the act of building a blessing.
One of the most important things that came out of it is the connections and network we created for practitioners and facilitators of Jewish Learning as Spiritual Practice. We now have colleagues with whom to collaborate, trusted friends to ask questions about what to charge for programs or what to pay teachers, a network to share resources. I am so inspired by the work that is happening in this field of Jewish Learning as Spiritual Practice. I know there are more of us out there doing inspiring work in this area ⁠— including students and alumni of Hebrew College — and I welcome anyone to get in touch and to stay tuned for what comes next.
---
Rabbi Sarah Tasman, Rab`12, is the founder and CEO of the Tasman Center for Jewish Creativity which offers in-person and online resources for those seeking meaningful, accessible, and personalized Jewish learning, community classes & gatherings, and private spiritual coaching and rabbinic support. Rabbi Sarah is a dynamic and creative educator, spiritual leader and life cycle officiant based in Washington, DC, and is a Rabbis Without Borders Fellow. Previously, Rabbi Sarah was the InterfaithFamily/DC founding director, serving the needs of interfaith couples and families throughout Virginia, Maryland and Washington, DC. She has also served as Senior Jewish Educator at Maryland Hillel and has taught at Sixth & I Historic Synagogue, Adas Israel Congregation and many area organizations. She was ordained by the Rabbinical School of Hebrew College in 2012. She also holds a master of Jewish Education and a certificate of non-profit management. Follow Rabbi Sarah Tasman on instagram @rabbisarahtasman or Facebook @thetasmancenter. Learn more and sign up for her newsletter at www.tasmancenter.org.