Miller Center for Interreligious Learning & Leadership: Faculty & Staff
Batya Ellinoy
Batya is in her second year of rabbinical school at Hebrew College. She currently teaches with Hebrew College's Eser: Young Adult Learning program and is training to be certified as a Somatic Experiencing Practitioner to use psychobiological approaches to help resolve trauma and stress disorders. Before arriving in Boston, Batya most recently lived in Prescott, Arizona, and worked as Associate Faculty in Integrated Arts/Dance at Prescott College and as a group psychoeducation facilitator for clients recovering from addiction.
Prior to that, Batya grew up in Monterey, CA, and after graduating high school, she moved to Israel, made aliyah, and served in the Israel Defense Forces. Returning to the U.S., she graduated from Prescott College with self-designed majors in Studies in Diversity & Social Sustainability and in Dance & Transformation. Making a decision to become a Somatic Jewish Educator and offer a unique integration of Jewish study, nature-connection, and dance, Batya taught workshops at Limmud Bay Area, Wilderness Torah, co-led a trans-denominational Jewish community in San Francisco, and worked as an educator at a Jewish experiential after school program in Berkeley, CA. She also participated in trainings with Torah Trek Guides and Embodying Spirit, En-spiriting Body.
Joey Glick
Joey Glick is a student in the Rabbinical School at Hebrew CollegeJoey this fall. A graduate of Colorado College and the Graduate Theological Union, Joey's academic and professional life have centered on the intersection of interfaith dialogue and Jewish learning. Before beginning rabbinical school, Joey brought these passions to his works as the Interim Assistant Director of Religious and Spiritual Life and the Rachlin Director of Jewish Life at Vassar College. Joey loves to play the banjo, watch his hometown Pittsburgh Pirates, and learn texts with friends.
Silvia P. Glick
Silvia P. Glick, Associate Managing Editor, has worked as a full-time editor for many years. In 2018, she received her PhD from the Editorial Institute at Boston University's Graduate School of Arts and Sciences. Her dissertation, an annotated edition of the correspondence of Jewish Book Week founder, social activist, and librarian Fanny Goldstein, is entitled With All Due Modesty: The Selected Letters of Fanny Goldstein. Along with Walter Earl Fluker and Peter Eisenstadt, she edited The Papers of Howard Washington Thurman, Vol. 3: The Bold Adventure, September 1943–May 1949 (University of South Carolina Press, 2013); The Papers of Howard Washington Thurman, Vol. 4: The Soundless Passion of a Single Mind, June 1949–December 1962 (University of South Carolina Press, 2017); and The Papers of Howard Washington Thurman, Vol. 5: The Wider Ministry, January 1963–April 1981 (University of South Carolina Press, forthcoming).
Rev. Soren M. Hessler
Rev. Soren M. Hessler is senior consultant to the Miller Center and the Journal of Interreligious Studies. He is an elder in full-connection in the West Ohio Annual Conference of The United Methodist Church and served for nine years a member of ministry staff of Boston University's Marsh Chapel. Rev. Hessler is currently the Director of Graduate Academic Services at Drew University and recently co-edited Words to Live By: Sacred Sources for Interreligious Engagement (Orbis, 2018). He previously served as Associate Director of the Miller Center from its inception in 2016 through September 2018. Rev. Hessler teaches the Introduction to Christianity course in the Rabbinical School curriculum and facilitates the Miller Center's grant-writing and reporting processes. He holds BA, MA, MDiv, and EdM degrees from Boston University, and his PhD research there focuses on the histories and practices of accreditation at Protestant seminaries in the United States.
Hyunwoo Koo
Hyunwoo Koo is pursuing his Ph.D. in Practical Theology at Boston University School of Theology, focusing on the socio-cultural and religious experiences of Korean immigrants in the US. His research interests also include contextual theologies, postcolonial studies, and migration studies. Prior to his current program, Hyunwoo studied at Boston University (MDiv) and Harvard University (MTS in Comparative Studies).
Kelly Kossar
Kelly is on track to graduate with a Master's in Jewish Education with a concentration in Special Needs in Spring 2020. She currently teaches kindergarten at Temple Israel of Boston, and serves as an interreligious living and learning fellow for the Miller Center/Walker Center. Kelly has spent numerous summers working at different overnight camps in Mississippi, New York, California and Georgia.
Phoebe Oler
Phoebe is a senior at Boston University studying Biological Anthropology. This is her second year as the Community Engagement Assistant for the Miller Center. Phoebe also works as a Ministry Associate for Marsh Chapel at Boston University and sings in the Marsh Chapel Choir. She plans on beginning her Master of Divinity in the Fall of 2019.
Tom Reid
Tom Reid is the Assistant Director of the Miller Center for Interreligious Learning and Leadership at Hebrew College. He is also in the final year of the Master of Divinity (MDiv) program at Boston University School of Theology. His studies include a focus on religion and conflict transformation and interreligious engagement. In conjunction with his studies, Tom is an inquirer seeking ordination in the Presbyterian Church (U.S.A.). Prior to returning to higher education, Tom spent over ten years working in a variety of fields: clean energy in Boston, environmental and green building consulting in Boston and Dubai, and business education in Madrid, Spain. Originally from Kansas, Tom holds a BA with honors from the University of Kansas in Environmental Studies, Latin American Studies, and Spanish and an MA in European Politics, Policy, and Society granted jointly by the Euromasters consortium of European universities and funded by a Fulbright grant.
Rabbi Or Rose
Rabbi Or Rose is the founding Director of the Betty Ann Greenbaum Miller Center for Interreligious Learning & Leadership of Hebrew College. Before assuming this position in 2016, he worked in various administrative and teaching capacities at Hebrew College for over a decade, including serving as a founding faculty member and Associate Dean of the Rabbinical School. Rabbi Rose was also one of the creators of CIRCLE, The Center for Interreligious & Community Leadership Education, cosponsored by Hebrew College and Andover Newton Theological School (2007-2017). In addition to his work at Hebrew College, Rose has taught for the Bronfman Youth Fellowships, The Wexner Graduate Fellowship, Me'ah, and in a variety of other academic, religious, and civic contexts throughout North America and in Israel. Rose is the co-editor of Speaking Torah: Spiritual Teachings from Around the Maggid's Table (Jewish Lights), and the award-winning anthology, My Neighbor's Faith: Stories of Interreligious Encounter, Growth, and Transformation (Orbis). His most recent publication is the anthology Words To Live By: Sacred Sources for Interreligious Engagement (Orbis 2018). In 2009-2010, he was selected as a member of the Shalom Hartman Institute's inaugural North American Scholar's Circle. In 2014, Northeastern University honored him for his interreligious educational efforts.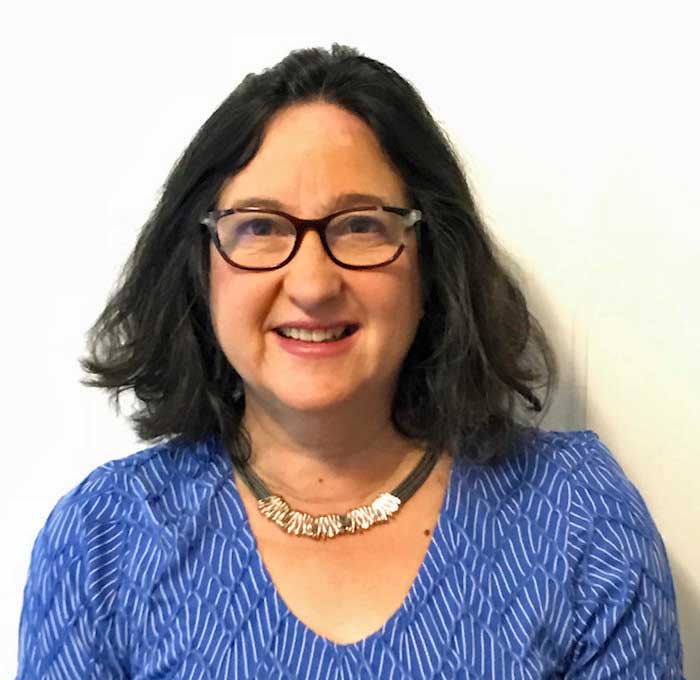 Marilyn Stern
Marilyn Stern joined the Miller Center for Learning and Leadership in Fall 2017 as the Community Engagement Administrator. In addition to her work keeping the Miller Center "moving" and "in touch" she also is associate director of Me'ah and Me'ah Online, two of Hebrew College's adult learning initiatives.
Prior to her work at Hebrew College, Ms. Stern spent twenty years as a Jewish educational professional, directing family, youth, and adult programs at Temple Isaiah in Lexington and Congregation Eitz Chayim in Cambridge. In her congregational work, Ms. Stern worked closely with parents from a variety of faith traditions, who were raising Jewish children, to help them find their place in the Jewish community.
Ms. Stern, grew up in the Los Angeles area, where she graduated with her B.A. in History from UCLA. She has lived in the Boston area for over 30 years and lives in Brookline with her husband, David. Ms. Stern received Certificate in Family Education at Hebrew College in 1995 and her M.A. Degree in Jewish Education at Hebrew College in 1996.
Axel Marc Oaks Takács
Axel is a doctoral candidate at Harvard Divinity School, finishing his dissertation in Spring 2019. He is a scholar of interreligious/comparative theology and Islamic Studies. Areas of scholarship within Islam include pre-modern intellectual and spiritual traditions, with a focus on sufism, Persian poetry, and the post-classical commentarial traditions in Arabic and Persian. He writes as a constructive Catholic theologian in conversation with contemporary issues. As the Managing Editor for the Journal of Interreligious Studies, he also works at the intersection of the study of religion, interreligious studies, and theology. In addition to his scholarly work, he and his spouse are resident tutors (near-peer mentors) at Kirkland House, one of the undergraduate communities at Harvard College. They are soon-to-be parents of one child, and enjoy the fluffy company of their two poodles.