Miller Center for Interreligious Learning & Leadership: Faculty & Staff
Imam Taymullah Abdur-Rahman
Batya Ellinoy
Batya is in her second year of rabbinical school at Hebrew College. She currently teaches with Hebrew College's Eser: Young Adult Learning program and is training to be certified as a Somatic Experiencing Practitioner to use psychobiological approaches to help resolve trauma and stress disorders. Before arriving in Boston, Batya most recently lived in Prescott, Arizona, and worked as Associate Faculty in Integrated Arts/Dance at Prescott College and as a group psychoeducation facilitator for clients recovering from addiction.
Prior to that, Batya grew up in Monterey, CA, and after graduating high school, she moved to Israel, made aliyah, and served in the Israel Defense Forces. Returning to the U.S., she graduated from Prescott College with self-designed majors in Studies in Diversity & Social Sustainability and in Dance & Transformation. Making a decision to become a Somatic Jewish Educator and offer a unique integration of Jewish study, nature-connection, and dance, Batya taught workshops at Limmud Bay Area, Wilderness Torah, co-led a trans-denominational Jewish community in San Francisco, and worked as an educator at a Jewish experiential after school program in Berkeley, CA. She also participated in trainings with Torah Trek Guides and Embodying Spirit, En-spiriting Body.
Rev. Soren M. Hessler
Rev. Soren M. Hessler is instructor of Christian and interreligious studies at Hebrew College and an advisory board member of the Journal of Interreligious Studies. He is an elder in full-connection in the West Ohio Annual Conference of The United Methodist Church and served for nine years as a member of the ministry staff of Boston University's Marsh Chapel. Rev. Hessler is currently the Director of Graduate Academic Services at Drew University. He previously served as Associate Director of the Miller Center from its inception in 2016 through September 2018 and co-edited Words to Live By: Sacred Sources for Interreligious Engagement (Orbis, 2018). Rev. Hessler teaches the Introduction to Christianity course in the Rabbinical School curriculum. He holds BA, MA, MDiv, and EdM degrees from Boston University, and his PhD research there focuses on the histories and practices of accreditation at Protestant seminaries in the United States. He can be contacted at shessler@drew.edu.
Shelton Oakley Hersey
Shelton Oakley Hersey, has sought out, participated and facilitated spaces for reconciliation over the past decade. Her Bachelor degrees are from Rhodes College (Memphis, TN) in Religious Studies and Sociology. From Los Angeles and Fuller Theological Seminary, where she obtained a Masters in Intercultural Studies and Urban/International Development, to Mexico and South Africa, she has worked cross-culturally in bridge-building, development of communities and leaders, and spiritual formation, confirming her deepest passion: seeing lives and communities whole and living out their God-given potential. As the Interfaith Youth Initiative Program Director (a program of Cooperative Metropolitan Ministries), she brought together emerging youth leaders of Greater Boston across difference, understanding the significant role in unlearning and relearning that which divides and unites us. With her husband Scott, she enjoys living life in Jamaica Plain and loves being outdoors, sharing a slow meal with community, expressing herself through visual art and reading a really great book.
Rev. Tom Reid
Tom Reid is the Associate Director of the Miller Center for Interreligious Learning and Leadership at Hebrew College. In May 2019, he completed his Master of Divinity (MDiv) magna cum laude at Boston University School of Theology. His studies included a focus on religion and conflict transformation and interreligious engagement. Tom is also an ordained minister in the Presbyterian Church (U.S.A.). Prior to returning to higher education, Tom spent over ten years working in a variety of fields: clean energy in Boston, environmental and green building consulting in Boston and Dubai, and business education in Madrid, Spain. Originally from Kansas, Tom holds a BA with honors from the University of Kansas in Environmental Studies, Latin American Studies, and Spanish and an MA in European Politics, Policy, and Society granted jointly by the Euromasters consortium of European universities and funded by a Fulbright grant.
Rabbi Or Rose
Rabbi Or Rose is the founding Director of the Betty Ann Greenbaum Miller Center for Interreligious Learning & Leadership of Hebrew College. Before assuming this position in 2016, he worked in various administrative and teaching capacities at Hebrew College for over a decade, including serving as a founding faculty member and Associate Dean of the Rabbinical School. Rabbi Rose was also one of the creators of CIRCLE, The Center for Interreligious & Community Leadership Education, cosponsored by Hebrew College and Andover Newton Theological School (2007-2017). In addition to his work at Hebrew College, Rose has taught for the Bronfman Youth Fellowships, The Wexner Graduate Fellowship, Me'ah, and in a variety of other academic, religious, and civic contexts throughout North America and in Israel. Rose is the co-editor of Speaking Torah: Spiritual Teachings from Around the Maggid's Table (Jewish Lights), and the award-winning anthology, My Neighbor's Faith: Stories of Interreligious Encounter, Growth, and Transformation (Orbis). His most recent publication is the anthology Words To Live By: Sacred Sources for Interreligious Engagement (Orbis 2018). In 2009-2010, he was selected as a member of the Shalom Hartman Institute's inaugural North American Scholar's Circle. In 2014, Northeastern University honored him for his interreligious educational efforts.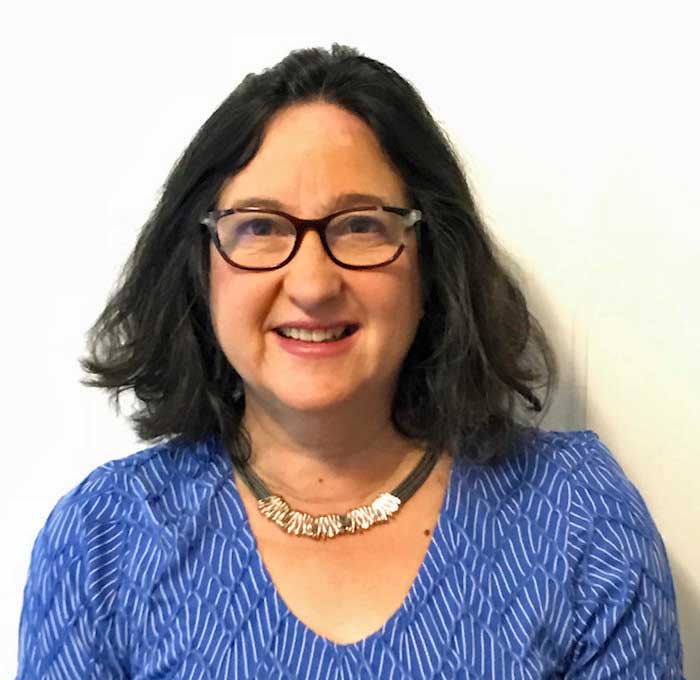 Marilyn Stern
Marilyn Stern joined the Miller Center for Learning and Leadership in Fall 2017 as the Community Engagement Administrator. In addition to her work keeping the Miller Center "moving" and "in touch" she also is associate director of Me'ah and Me'ah Online, two of Hebrew College's adult learning initiatives.
Prior to her work at Hebrew College, Ms. Stern spent twenty years as a Jewish educational professional, directing family, youth, and adult programs at Temple Isaiah in Lexington and Congregation Eitz Chayim in Cambridge. In her congregational work, Ms. Stern worked closely with parents from a variety of faith traditions, who were raising Jewish children, to help them find their place in the Jewish community.
Ms. Stern, grew up in the Los Angeles area, where she graduated with her B.A. in History from UCLA. She has lived in the Boston area for over 30 years and lives in Brookline with her husband, David. Ms. Stern received Certificate in Family Education at Hebrew College in 1995 and her M.A. Degree in Jewish Education at Hebrew College in 1996.
Dr. Axel Marc Oaks Takács
Axel is an assistant professor in the Department of Religion at Seton Hall University and Editor-in-Chief of the Journal of Interreligious Studies. He completed his doctorate at Harvard Divinity School in comparative (interreligious) theology, Islamic Studies, and Catholic theology in 2019. As a constructive theologian, his scholarship aims to read pre-modern sources as resources to contemporary questions. His dissertation and current research focuses on poetry, poetics, the imagination, and social imaginary as ways to understand the Christian theology of the Incarnation and the Islamic theology of the imagination. His tangential academic interest attends to how the ideology of capitalism functions as a modern religion that effectively restricts our collective imagination of alternative ways to relate with each other. He lives in Maplewood, New Jersey, with his spouse (Kim), their child (Emery), and two rescue poodles (Donovan and Ducky).