Young Adult Learning

Eser

Eser Classic, a 10-week spring program sponsored by Combined Jewish Philanthropies (CJP), brings together young adults in their 20s and 30s to explore contemporary issues and ideas through a specific Jewish theme. Eser Select offers shorter themed classes in the summer, fall and winter that build connection and community through conversation.
time

20s and 30s

location

Living rooms and community spaces

duration

Eser Classic: 10 (eser) Weeks; Eser Select: 6-8 weeks
Register for Eser
Eser Classic
Eser Classic participants meet for 10 sessions of facilitated discussion and Jewish learning each spring in convenient locations across the Boston Area. Weekly discussion sessions are held at the home of a group member and facilitated by a Jewish educator. A few Eser groups are designated for participants that share something in common, such as our Keshet group for the LGBTQ community and our Russian-Speaking Jews group for young adults from the Former Soviet Union. Groups also come together for Shabbat meals and other social gatherings.
We welcome the opportunity to partner with other organizations in the Greater Boston area to offer a tailored Eser experiences. Bring 10 friends and pick a theme or topic, and we'll find a facilitator and provide texts to enrich your Jewish journey!
Past Eser Classic "Top Ten" Themes
Eser Select
Eser Select is a six to eight week program offered in the fall and summer that features topics and conversations from past Eser "top tens," or explores new themes. One example is Eser Maker Mishkan, an opportunity to explore new activities, develop your Jewish identity, and build new connections through hand-on crafts like cooking, woodworking and embroidery.
Eser Events
A sample of the Eser experience with other young adults from across Boston with plenty of drinks, snacks and schmoozing. Visit Facebook to see upcoming events.
Past Eser Events
January 2019: The Nosh: Jewish Stories Told Live… at Mameleh's
More than 100 young adults in the Greater Boston area came together on Tuesday, January 26, 2019 at Mamaleh's in Cambridge for  Eser's "The Nosh 2019: Jewish Stories Told Live…at Mamaleh's." The event featured more than a dozen storytellers, including a few who were inspired to participate at the event.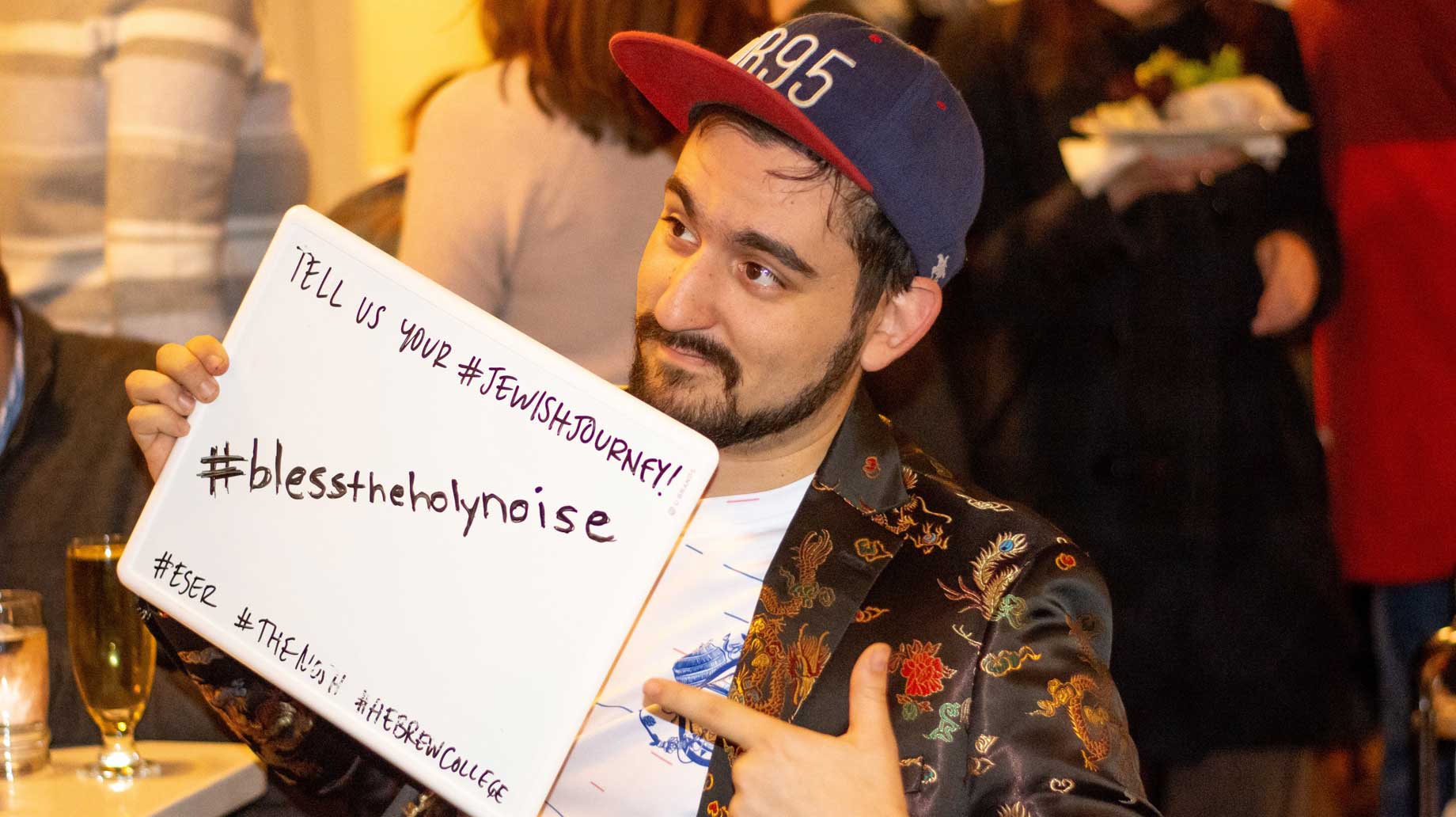 Eser on Campus
Available to most colleges and universities within the Boston area, Eser on Campus consists of ten sessions of group learning facilitated by either an Eser educator or a Hillel professional. Contact us if you're interested in bringing Eser to your campus!
I cannot recommend Eser highly enough. It is an invitation to a surprising new relationship with your Jewish self.

Meredith Reiches, Assistant Professor of Anthropology, the University of Massachusetts Boston